Purger restores chiller to peak efficiency.
Press Release Summary: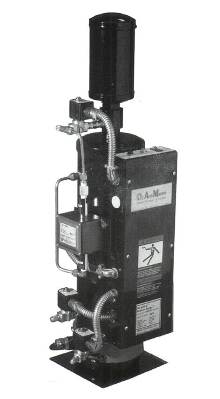 OAM Purger(TM) removes Oil, Acid, and Moisture from centrifugal chiller's refrigerant charge. Oil is automatically returned to chiller's oil sump. Since purger works continuously, refrigerant is permanently maintained in virtual oil-free state. OAM Purger operates independently of and has no effect on chiller operation. Installation consists of ¼ in. OD copper line connections and 120 V power supply.
---
Original Press Release:

OAM Purger(TM)


Redi Controls is pleased to announce the introduction of its revolutionary NEW patent pending technology, called the "OAM Purger" (O-A-M is an abbreviation for Oil-Acid-Moisture). The OAM Purger is designed to remove Oil, Acid and Moisture from a chiller's refrigerant charge. However, its MAIN PURPOSE is to remove OIL and AUTOMATICALLY RETURN IT to the chiller's oil sump where it belongs.

It is common knowledge that oil build-up occurs in all centrifugal chillers. Oil invariably finds its way into the evaporator where it mixes with the refrigerant, degrading system efficiency and capacity. This occurs when the evaporator tubes become coated with oil, the heat transfer efficiency is retarded and drastically reduces the cooling effect.

In fact, recent studies have identified excess oil on the refrigerant side of a chiller as a leading contributor to chiller inefficiency, and that the problem is widespread.

In one study, ASHRAE Research Project 601-TRP, refrigerant samples were taken from 10 operating chillers and analyzed for oil content. All of the chillers were found to contain excess oil in varying amounts from 3% (enough to significantly degrade performance) to as high as 23%. According to one OEM, as little as 1% (by weight) of oil in refrigerant could result in as much as a 3% loss in chiller efficiency.

Chiller manufacturers recommend oil concentration levels no higher than 0.5% by weight. However, in our conversation with the OEM's we learned that 12% is typical. Thus, for the typical 500 ton chiller, this could mean a 36% loss in efficiency and a penalty to the chiller owner of $24,000 per year in additional energy cost!

As you know, once oil gets into the chiller's refrigerant it's very difficult to get it back out. In the past, about the only way an oil-logged chiller could be fixed was to either remove and distill the refrigerant, or replace the charge with virgin refrigerant. In either case it was a very expensive process and it required a considerable amount of down time. As you are aware most centrifugal chiller applications simply cannot afford to have a chiller down, Period! Also utilizing the past methods, the fix was only temporary. The minute the chiller was placed back into operation oil contamination began all over again.

How the OAM Purger works.

The OAM Purger continually draws off a small quantity of refrigerant, typically 10 to 15 pounds at a time. The refrigerant is then distilled back to the chiller leaving the oil behind. The recovered oil is then automatically returned to the chiller's oil sump where it belongs. Acids and moisture are also removed from the refrigerant and oil during the process.

Because the purger operates 24 hours a day around the clock, regardless of chiller operating status, the refrigerant is permanently maintained in a virtual oil free state. This is true even in those situations where significant oil crossover occurs due to excessive oil seal wear.

The OAM Purger is a totally passive device that operates independently of and has no effect on chiller operation. Operation of the OAM Purger is accomplished, without an ejector pump, via a unique "Patent Pending" process utilizing gravity, heat and pressure exclusively to function.

The OAM Purger is extremely energy efficient; in fact, power consumption is approximately equivalent to a 200 Watt light bulb.

Advantages to the chiller owner.

1) The OAM Purger quickly cleans the chiller's refrigerant charge to only a trace level of oil.
2) Quickly restores chiller to peak operating efficiency.
3) Substantially reduces energy consumption saving the owner thousands of dollars in operating cost.
4) The OAM Purger pays for itself in 3 to 4 months. So, in effect, retrofitting an OAM Purger doesn't really cost the owner anything. In fact, retrofitting an OAM Purger is a financial investment that keeps on paying dividends (in some cases thousands of dollars per month).
5) Reduces maintenance and helps prevent premature failure.

Conclusion:

Every chiller truly needs an OAM Purger. All you need to do is refer to the results of the latest refrigerant analysis, and consider the benefits of retrofitting an OAM Purger.

The OAM Purger retrofits to any existing high or low-pressure centrifugal and screw chillers. (There are 180,000 potential chillers in North America that can use this new OAM Purger). However, only the low-pressure chiller version is available at this time. The high-pressure versions will be available soon. Installation is easy and typically can be accomplished in about a half day and consists of three ¼" O.D. copper line connections and 120 Volt power supply.

More from Machinery & Machining Tools