Purge/Pressurization System has universally mountable design.
Press Release Summary: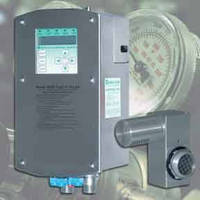 Supporting automatic pressure compensation and temperature control, Bebco EPS® 6000 Series Type X/Ex px integrates controller, pneumatic, electrical I/O, and programming interface in type 4X, IP66-rated housing. Available firmware and hardware options deliver application-specific operational enhancements that facilitate implementation of purge systems. Suited for use with up to 250 ft³ enclosures, system offers intrinsically safe inputs that can be inverted for NC inputs.
---
Original Press Release:

Simplify Purge System Implementation, and Lower Costs, with Bebco EPS® 6000 Series Purge/Pressurization System from Pepperl+Fuchs



TWINSBURG, OH - Pepperl+Fuchs' popular Bebco EPS® 6000 Series Type X / Ex px Purge Pressurization System is now available with updated firmware and new hardware options that deliver application-specific operational enhancements that make implementing purge systems easier and less expensive than ever before.

"A new input pressure feature allows the user to set the enclosure pressure between a maximum and minimum pressure value. If the pressure drops below this minimum value, the rapid exchange valve will turn on until the pressure reaches the maximum value and then it will shut off. This allows for changes in the enclosure pressure, and compensates so that the enclosure pressure will not turn off. This input could also be taken to one of the control relays to energize a second pressure source," says Chris Romano, Product Portfolio Manager.

Additionally, automatic temperature control is now possible with the 6000 Series Temperature Hub and Temperature Sensor, enabling users to sense the temperature of various surfaces inside or outside the enclosure. And with its updated programming menu, the 6000 series control unit allows users to set averaging or maximum temperature, and can be used to turn on the solenoid valve on the manifold, activate the auxiliary relays to a cool or heat the enclosure, or warn of temperature problems.

Overview of the new features:

Automatic pressure control after purging

New intrinsically safe temperature hub and sensors modules

Additional system feedback and alarms

I.S. inputs can be inverted for normally closed inputs

Addition of Spanish, French and German programming menus for the global markets

"These new operating parameters and available hardware allow users to eliminate many labor intensive programming steps and reduce associated costs," says Romano.

The 6000 series comes with all Bebco family system features as standard, is user-configurable to satisfy particular applications, and can be used with enclosures up to 250 cu. ft. (7.1 cu.m.) of volume. Both the control unit and vent are universally mountable for all enclosure sizes. It is also universal certified to all applicable updated standards for both Gas and Dust hazardous atmospheres. It is IECEx, cULus and ATEX directive certified, and complies with Safety Integrity Level IEC 61508 SIL 2.

"Unlike previous purge/pressurization system, the Bebco EPS® 6000 Series features an intuitive programming screen that allows the user to quickly and easily configure the system to meet their specific application needs, and to monitor the status of the system's pressure, flow, and operation. This eliminates the need for the user to specify all their application requirements at time of order," explains Romano.

The 6000 series is a complete purging system that contains the controller, pneumatic, electrical I/O and programming interface housed in a durable type 4X, IP66-rated housing. Additionally, all exposed parts are 316L (UNS31603) stainless steel, making the 6000 series well suited for use in offshore, refinery and pharmaceutical applications where corrosive or potentially explosive environments exist. For users who wish to custom fit the new purge/pressurization system to their enclosure, the 6000 series is also available in a cost effective component-kit modular version. Universal mounting options facilitate easy integration into existing or customized systems, and enable the unit to be mounted to the enclosure in any vertical or horizontal orientation. The unit's "smart vent" works on all enclosure sizes, and includes a gravity-free flapper and rotatable vent cap with spark arrestor that allows the vent to also be mounted in any orientation - even inside the enclosure.

A user-friendly interface with back-lit LCD and highly visible LEDs enables easy programming and operation to meet specific application requirements. This also eliminates the need for analog pressure gauges, as the screen displays information such as flow, pressure and system status, with pressure and flow feedback provided to the control unit by the vent. The interface also provides diagnostics for reviewing start-up and operating parameters, and can be rotated to any orientation required by the application. Additionally, the manifold has an automatic purging and pressurization feature that offers considerable cost savings on gas in applications using non-atmospheric air and allows the system to automatically purge and pressurize without an operator present.

Purge and pressurization protection is suitable for many applications, and is one of the most flexible Ex protection solutions. Bebco EPS systems from Pepperl+Fuchs provide the means to operate general purpose equipment in classified areas, or in environments that are highly corrosive or dusty. The principle behind purge and pressurization systems is to prevent a corrosive, dusty or potentially explosive atmosphere from penetrating a closed protective housing using a standard overpressure technology. These systems control and monitor compressed instrument air or inert gas through the protected enclosure(s) so as to remove and prevent the accumulation of flammable gas, vapors or dust, thus making the inside of the pressurized enclosure safe.

About Pepperl+Fuchs

With over 4,000 employees in more than 30 countries, Pepperl+Fuchs is a world leader in the design, manufacture, application and support of a broad range of robust solutions to varied process automation markets and applications. Pepperl+Fuchs is the market leader for intrinsic safety interfaces and hazardous location equipment, and also specializes in fieldbus, HART interfacing, purge and pressurization, surge suppression, power supplies, remote I/O, signal conditioning, industrial HMI displays and interfaces, electromechanical equipment, level sensing and corrosion monitoring solutions.

A 2010 Control and Control Design Reader's Choice Award winner for intrinsic safety equipment and purge & pressurization systems, Pepperl+Fuchs has also been named by Control magazine and the ARC Advisory Group as one of the Top 50 Global Automation Companies.

Contact information:
Tel.: 330.486.0002, Fax: 330.425.4607, pepperl-fuchs.us, pa-info@us.pepperl-fuchs.com

More from Communication Systems & Equipment