Punch Stripper pierces/strips material up to 2.0 mm thick.
Press Release Summary: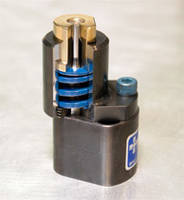 Die-spring actuated True-Strip(TM) fits directly on to industrial standard retainers with one screw and complies with all NAAMS specifications. Anti-loosening thread locking patch minimizes chance of loosening during operation. Available in 7 inch and metric ball-lock shank diameters, self-contained stripping device features flanged steel can that is precision machined and burnished from pre-hardened steel and black-oxidized for corrosion resistance.
---
Original Press Release:
Moeller Manufacturing Introduces New True-Strip(TM) Mechanical Punch Stripper
Die-spring actuated mechanical stripper for punches, now provides the highest performing and most versatile stripping unit in the metal forming industry. In metal forming and piercing applications effectively stripping the work piece is a key element for a successful operation. It's what makes the tools last longer and ensures there are no double hits or parts being stacked up in the die that can cause catastrophic damage. As a result, Moeller Manufacturing Company, a leading designer and manufacturer of standard and special die components, recently introduced a new mechanical stripper design called the True-Strip(TM), Fig. 1, that now provides a level of stripping technology not seen before. The True- Strip is a precision-machined device, that is compact, convenient, interchangeable and fits directly on to industrial standard retainers with one screw and complies with all NAAMS specifications. The screw is provided with an anti-loosening thread locking patch to reduce the chance of loosening during operation. What Moeller Manufacturing has accomplished with the True-Strip is to provide manufacturers and tool and die makers with a high-performance, fully self-contained, off-the-shelf, standardized machine tool like stripping device. True-Strip allows the user to get away from urethane stripping devices that have very unpredictable wear life. The True-Strip is extremely durable, very accurate, and has the versatility and flexibility to pierce and strip material thickness up to 2.0 mm for a wide variety of material and production requirements. This design allows all of the stripping forces to be completely isolated in the stripper unit body, so no forces are being transferred to any outside component. In addition, by merely changing the spring, the stripping force is adjustable. An added benefit is the fact that the stripping unit attaches to all NAAMS type retainers without any retainer alterations. The basic design features a flanged steel "can" that is precision machined and burnished from pre-hardened steel, which is black-oxided for corrosion resistance. A bronze or hardened and coated steel stripper plunger is inserted through a precision hole in the front part of the can. The plunger has an I.D. that matches the hole piercing punch with clearance that provides the stripping action. The plungers are available in standard lengths for flat piercing operations and an extended length version that allows for stripper contouring. These plungers can also be supplied with finished angles or 3-D contours on the face of the plunger for specific stripping applications. A significant design feature that differentiates True-Strip from competitive brands is the fact that the stripper is guided not only by the land of the steel can, but also by the head on the stripper. The hole in the can is precisely machined and micro-finished to provide a true and very smooth surface to accommodate stripper movement. This feature creates a dual guiding condition, adding stability for stripping side loads. The stripping unit is designed in a "D" shape which guarantees proper orientation and ensures the center of the "D" is on the same centerline as the punch and the pierced hole, simplifying the design and enhancing the accuracy and consistency of manufacture. Behind the plunger is a steel mechanical die spring, which provides the stripping force. By using a spring, the unpredictability of the life expectancy of urethane designs has been eliminated. The spring is pre-loaded 5% and is retained in place by a threaded retaining cap that screws in and bottoms out in its mating pocket to compress the spring to its pre-loaded condition. These retaining caps are designed with a hexagonal hole that functions to accurately locate the entire assembly to the punch shank and provides for six arc points of contact, conveniently locating the unit and allowing disassembly with a simple hex wrench, Fig. 2. In position, the spring retaining cap sits adjacent to the top of the punch retainer. This is where the strongest attachment point exists, and provides a concentric relationship between the punch point and the stripping plunger. The combination of guiding the stripper plunger in two places and the precision characteristics of the spring cap, allow True-Strip to be mounted up to a 15-degree angle for mechanical cam applications, resulting in a 30% improvement over other conventional mechanical and urethane type devices. True-Strip is currently available in seven, inch and metric, heavy-duty, ball-lock shank diameters. CAD data and solid models are available for download at www.moellerpunch.com Custom designs are available on request, including multi-hole, light-duty and shoulder type punch configurations. Each unit is accompanied by a specific size mechanical spring to provide the optimum stripping force. A variety of spring pressures are available, allowing the user to adjust the stripping force for specific applications, including thin metal and pre-painted materials where marring can be an issue.
More from Test & Measurement