Punch Press features 46-station capacity.
Press Release Summary: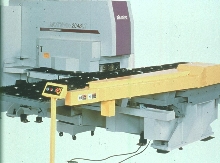 MOTORUM-2048LTT 22 ton turret punch press operates with onboard electric servo motor drive mechanism. It features retractable repositioning pad buttons and retractable die function that offers die-to-stripper clearance of .875 in. Press provides maximum punching speed of 350 HPM and maximum nibbling speed of 800 HPM with +/-.003 in. precision. Other features include brush tables, built in parts chute, and slug suction unit.
---
Original Press Release:
Murata Wiedemann's Innovative Technology Expands Capabilities With teh New Motorum 2048LTT

July 1, 2001 (Charlotte, NC) -- Murata Wiedemann is proud to announce the expansion of its 22 Ton Motorum Series which operates with the first onboard electric servo motor drive mechanism in turret punch press technology -- the MOTORUM-2048LTT. This machine has an expanded turret layout with a
46-station capacity. Innovations include retractable repositioning pad buttons which virtually eliminate scratches on the underside of the work sheet and a patented retractable die function that offers the highest die-to-stripper clearance (.875") in the industry.

As a result of the MOTORUM-2048LTT's bottom-up punching process, parts are much better formed -- thus enhancing your quality. Plus, operation time is saved since machines don't have to be reprogrammed to avoid interference with sheet movements.

Our quick release die holders also offer significant time savings. With a single touch, the covers open up -- for the fastest tool changing possible. And, as you would expect from Murata Wiedemann, you get the maximum in speed (punching: 350 HPM and nibbling: 800 HPM) and precision (+/-.003").

What's more, with its electric servo-driven ram technology, the MOTORUM-2048LTT uses minimal energy when it is actually punching -- thus delivering a substantial savings in electricity costs. Several features included with the MOTORUM-2048LTT are brush tables, a built in parts chute, and a slug suction unit to minimize slug pull-up.
More from Electrical Equipment & Systems