Pumps provide flow control and fast in-line flushing.
Press Release Summary: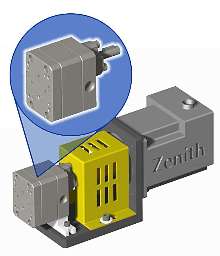 Equipped with AGMA Level 14 rotary spur metering gears, Chameleon Pumps deliver continuous, pulseless flow of paints or coatings despite variations in temperature, viscosity, or pressure. Moving parts are through-hardened to Rc-54 or higher for wear resistance. Standard material is 400 Series stainless steel and high-vanadium stainless steel. Diamond-like coatings are optional. Discharge pressures range from 0-1,000 psi.
---
Original Press Release:

Zenith's New Chameleon Pumps Provide Superior Metering And Flow, Plus Fast In-Line Flushing


Sanford, N.C. - Zenith Chameleon Pump Technology(TM) for paint and coating applications are designed to deliver superior metering, more stable flow control and faster in-line flushing for easy application changeovers.

Equipped with AGMA Level 14 (or better) spur precision metering gears, Chameleon pumps are free of troublesome check valves found in conventional reciprocating pumps. Their rotary spur gears assure a smooth and continuous pulseless flow of paints or coatings despite variations in temperature, viscosity and pressure.

The pumps feature only three moving parts - all of them through-hardened to Rc-54 or higher for improved strength and greater wear resistance. The Zenith manufacturing process produces products with tolerances to +.00005" (1.25 micron). Standard material is 400 Series stainless steel; high-vanadium stainless steel and Diamond-like coatings are options. Discharge pressures range from 0 to 1,000 psi.

A division of the Parker Hannifin Corporation, Zenith has been producing pumps, pump technologies and other industrial flow control products for nearly eight decades. Zenith products reflect innovative design, precision manufacturing techniques and materials chosen to assure consistent repeatable transmission of media and extended service life.

For more information on Zenith Chameleon brand pumps for paints and coatings, call 800-845-2063 or 919-774-7667. Reach Zenith on-line at www.zenithpumps.com, zenithweb@parker.com