Pump Trap eliminates condensate handling problems.
Press Release Summary: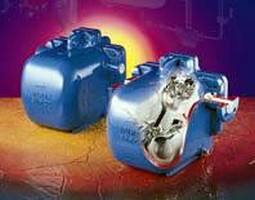 Steam-powered APT14HC handles temperatures to 388°F and pressures to 200 psig while delivering up to 6,160 lb/hr pumping and 19,800 lb/hr trapping. Compact pump trap features 8 in. filling head, external motive supply strainer, 2 in. inlet and 1½ in. outlet connections, motive steam connection, stainless steel internals, and SG iron pressure envelope construction. APT14HC collects and removes condensate in process vessels, heat exchangers, and vacuum and temperature controlled equipment.
---
Original Press Release:

Spirax Sarco Introduces New Pump Trap



BLYTHEWOOD, SC--Spirax Sarco has added the new APT14HC to its Automatic Pump Trap line. The APT14HC is engineered to eliminate condensate handling problems, including poor heat transfer, irregular temperature control, corrosion, noise and waterhammer, tube failure and high maintenance costs. It is designed to automatically collect and remove condensate the instant it forms in equipment such as process vessels, heat exchangers, heaters, vacuum and temperature controlled equipment.

The steam-powered APT14HC requires no electrical power, making it suitable for hazardous environments, and operates even in a vacuum. The compact pump trap is designed for use at a maximum temperature of 388°F (198°C) and a maximum pressure of 200 psig (14 barg). The higher capacity feature allows for a wide range of applications, up to 6,160 lb/hr (2,794 kg/hr) pumping and 19,800 lb/hr (8,981 kg/hr) trapping. The 8-in. filling head allows for convenient installation below low-mounted process equipment.

The APT14HC is pressure rated to PN16; standard features include an external motive supply strainer, 2-in. inlet and 1-1/2-in. outlet connections, a motive steam connection, an additional lifting eye on the cover, stainless steel internals and SG iron pressure envelope construction. Electroless nickel-plated (ENP) versions are also available.

Spirax Sarco
Spirax Sarco is the world's leading provider of steam system solutions, dedicated to providing knowledge, service and products for the control and efficient use of steam and other industrial fluids. With more than 90 years of experience, Spirax Sarco has both the resources and capabilities to meet customers' total system needs.

Contact
Dawn Cartwright
Marketing Communications Manager
Spirax Sarco, Inc.
Tel. 803-714-2072
Fax 803-714-2224
Email dcartwri@spirax.com
www.spiraxsarco.com/us


More from Software