Pump Systems come in single, dual, and redundant configurations.
Press Release Summary: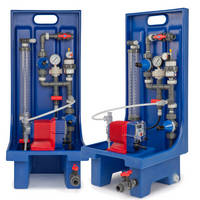 Available in 4 configurations, pre-engineered Walchem Pump Systems provide chemical feed solutions with standard floor mount design (wall mountable optional). Core begins with chemical-resistant pump stand molded of UV-stabilized linear LDPE. Components added to the stand to create various systems include calibration columns, back pressure/anti-siphon valves, pressure relief valves, pulsation dampeners, gauges, ball valves, and Y-strainers. Auto-fill option is available.
---
Original Press Release:

Walchem, IWAKI America Inc is Proud to Announce our New Walchem Pump System



Walchem, IWAKI America Inc is proud to announce our new Walchem Pump System. They are available in four configurations offering simplicity while accommodating a range Walchem of needs, from the economical basic systems to full-featured redundant backup systems.



Pre-engineered pump systems provide chemical feed solutions and ease of installation in many applications. The core of every system begins with a rugged, chemical resistant pump stand molded of UV stabilized linear low density polyethylene. Components added to the stand to create the various systems include calibration columns, back pressure/anti-siphon valves, pressure relief valves, pulsation dampeners, gauges, ball valves and Y-strainers



Key features include single, dual and redundant pre-engineered pump systems that are factory assembled and hydrostatically tested and are a compact, efficient use of space.  The auto-fill option provides the plumbing and valves to enable the metering pump to fill the calibration column for applications when flooded suction is not available. Floor mount design standard, but it is also wall mountable and has a large capacity spill containment with drain designed into each stand.



Typical applications are cooling tower/boiler water treatment, pH adjustment, chlorination, sanitary cleaning, drinking water treatment (fluoride/pH), closed loop systems and scrubber replenishment.  CONTACT US TODAY at info@walchem.com or visit our website at www.walchem.com to learn more about the Walchem pre-engineered pump system.



Walchem, IWAKI America Inc

Holliston MA  508.429.1110

More from Architectural & Civil Engineering Products