Pump Frame prevents premature bearing/seal failure.
Press Release Summary: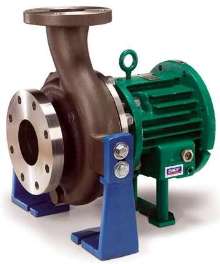 Environamics universal power frame cartridge eliminates premature bearing and mechanical seal failures caused by heat, vibration, misalignment, and cavitation. Modular replacement for existing power frames bolts into place without modifying pump, piping, or foundation. Interchangeable shaft ends enable unit to fit any impeller configuration. Cartridge can be converted from standard power frame to hermetically sealed unit.
---
Original Press Release:

Introducing an 'Ultimate Pump Upgrade' from SKF: Environamics Universal Power Frame Cartridge Targets Premature Bearing and Seal Failures


The new Environamics universal power frame cartridge available exclusively from SKF provides an "ultimate pump upgrade" designed to virtually eliminate premature bearing and mechanical seal failures caused by heat, vibration, misalignment, and cavitation. This unique modular "bolt-on" replacement for existing power frames can install and operate in pumps trouble-free, regardless of industry application.

Three basic frame sizes fit virtually all pump brands and models (helping to reduce replacement inventory). The cartridge meets ANSI and API pump specifications and can be bolted easily into place without modifying pump, piping, or foundation. Interchangeable shaft ends can fit any impeller configuration.

Cartridge features promoting optimized pump performance and service life include SKF® Explorer high-capacity, single-row angular contact ball bearings for improved running accuracy, shaft stiffness, and seal stability; bearing isolators to channel away contaminants; a patented internal oil mist lubrication system to enable running up to 60ºF cooler than ordinary power frames for extended bearing and lubricant life; and sturdy, one-piece, thick-walled housing.

The cartridge can be readily converted from standard power frame to hermetically sealed unit to contain process fluids in the power frame, minimizing costs of leak detection and repair. A patented sealing system provides seal arrangement flexibility to handle a wide range of liquids and slurries and to adapt for industry-specific operating and safety conditions.

In oxygen-critical brewery applications where exposure must be avoided, the fully enclosed frame can be sealed further from the environment with inert gas to add an extra layer of protection to prevent oxygen getting into the system from the pump.

An optional C-frame adapter supports motors up to 200hp. These can be aligned quickly and precisely with the power frame shaft without requiring hot and cold shaft alignments. The robustness of this arrangement allows pumps to be stilt-mounted, eliminating a need for baseplates, simplifying clean-in-place activities, and improving sanitary conditions.

Contact Wendy Earle, SKF USA Inc., 1510 Gehman Road, Kulpsville, PA 19443-0332. Phone: 215-513-4458; Fax: 215-513-4736. Website: www.skf.com

(SKF® is a registered trademark of SKF USA Inc.)

More from Chemicals & Gases