Pump Controller safeguards against damaging conditions.
Press Release Summary: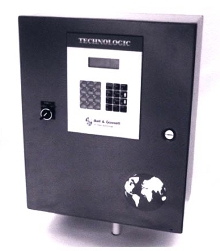 Technologic 5500 Series can receive sensor inputs, stage pumps, control AFD speed, and monitor motor performance. It safeguards against motor overload, pump flow surges, hunting, and end of curve. Controller features NEMA 1 enclosure and fused 24 V power supply. It provides data logging of alarms, pump run time, and signal data. Unit also includes multi-fault memory and recall, operator interface diagnostics, and manual and automatic alternation.
---
Original Press Release:
New Technologic(R) 5500 Controller Latest Addition To Bell & Gossett's Powersav(R) Line

Morton Grove, IL.April 10, 2002 - A new combination multiple-pump
and multiple-zone pump controller designed to provide optimum performance, reliability and energy savings has been added to Bell & Gossett's popular Powersav(R) line of Technologic(R) pump controllers.

The new Technologic 5500 Series has the capability to receive sensor inputs, stage pumps, control AFD speed and monitor motor performance in order to meet system demands. Furthermore, it combines PID functions, setpoint modification, and system and component status into a single, central, user-friendly unit.

The controller is designed to safeguard against damaging hydraulic conditions including: motor overload, pump flow surges, hunting and end of curve (flow sensor required). It is also capable of staging and destaging pumps based on an Efficiency Optimization Program to provide the lowest kW draw.

Other standard features of the Technologic 5500 Series include:

- Operator Interface Diagnostics
- Multi-fault Memory and Recall
- Pump Elapsed Time (Individual)
- Manual and Automatic Alternation
- Automatic Start of Lag Pump upon Lead Pump Failure (in Variable
or Constant Speed Mode)
- Data Logging of Alarms, Pump Run Time & Signal Data
- Fused 24-Volt Power Supply
- NEMA 1 Enclosure

A special memory storage function prevents accidental loss of data due to voltage storage surge or spike. In the event of a complete power outage, all field-preset values remain stored and can be recalled.

Offering the same proven 'Common Logic' set-up and operating format as other family of Technologic Controllers (Technologic 5000, 1200, 1100 and 500), the 5500 provides the same clear, detailed messages, status indications and diagnostics in plain English on a 4 line, 20 character illuminated LCD display for easy viewing in all lighting conditions.

About Bell & Gossett

Bell & Gossett, a unit of ITT Industries, is a leading manufacturer of centrifugal pumps, hydronic specialties, heat exchangers, condensate handling equipment, and packaged systems for variable and constant speed pumping, heat transfer and pressure boosting. For more information, contact Bell & Gossett: 8200 N. Austin Avenue, Morton Grove, IL 60053; phone 847/966-
3700; fax 847/966-9052; or visit www.bellgossett.com.

More from Communication Systems & Equipment