Pump/Control Panel provides controlled recovey rate.
Press Release Summary: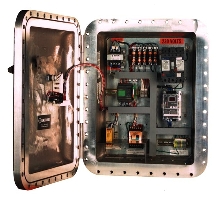 Explosion Proof Anchor® Pump and Electric Control Panel are designed for pumping hazardous fluids and/or pumping in explosive environments and volatile locations. Positive displacement piston pump is made of stainless steel and viton, can be set for flow range of 5 gpm or less, and can produce 400 psi. Armored metal explosion-proof box, designed to keep pump controls safe from possible explosions, meets UL 698, Class I, Div 5, Group D classifications.
---
Original Press Release:
Blackhawk Introduces New Explosion Proof Anchor® Pump and Electric Control Panel

Specially Designed to be Used When Pumping Hazardous Fluids and/or Explosive Environments and Volatile Locations

Glen Ellyn, IL - BLACKHAWK ENVIRONMENTAL COMPANY introduces their new Explosion Proof Anchor Electric Pump and Control Panel. The NEW Explosion Proof Anchor Electric Pump and Control Panel is designed for pumping hazardous fluids and/or pumping in explosive environments and volatile locations such as refineries, petrochemical and chemical facilities. The new armored metal explosion proof box, designed to keep the pump controls safe from possible explosions, meets UL 698, Class I, Div5, Group D classifications. The piston pump's top head drive allows the explosion proof motor and electrical power cords to be located outside of any hazardous, potentially hazardous and explosive environments in the sump or well.

The new Explosion Proof Anchor Electric Pump and Control Panel protects electric pumps by providing a controlled recovery rate, eliminating pump wear and tear, controlling stop and start frequencies and extending and retracting speed rates.

The Explosion Proof Anchor Electric Pump®, a positive displacement piston pump, is designed with a mechanical drive mechanism at the top of the well or tank. The Anchor Electric Pump can be set for a low flow range of 5 US GPM or less. Made of stainless steel and viton, Anchor Electric Pump is ideal for pumping hazardous fluids such as chlorinated solvents, hydrocarbons and thick, viscous liquids.

With shallow or deep recovery capabilities, the lightweight Anchor Electric Pump can produce 400 psi of pressure. The Anchor Electric Pump uses an active recovery process that draws product from a specified depth, at a specified rate, on demand at a consistent flow rate, independent of liquid level in the well or tank.

Blackhawk Environmental Co. provides pumping solutions for the environmental, landfill, groundwater and industrial markets. Blackhawk specializes in manufacturing quality pumps and controls for demanding pumping applications.

For more information, please contact BLACKHAWK ENVIRONMENTAL COMPANY 21W161 Hill Avenue, Glen Ellyn, IL 60137. Phone: 630.469.4916. Fax: 630.469.4896. Or e-mail:info@blackhawkco.com www.blackhawkco.com

874 Green Bay Road. Winnetka, IL 60093; 847.784.9900; fax 847.784.9958; www.narup.com
More from Packaging Products & Equipment