Pump/Compressor Maintenance Kits minimize downtime and failure.
Press Release Summary: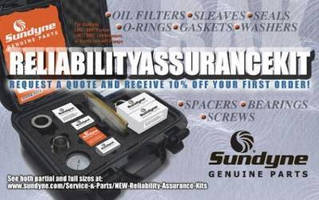 Contained in customized package matched to unique serial number of LMV integrally geared and direct drive pumps, Sunflo pumps, and LMC/BMC compressors, Reliability Assurance Kits provide single source for all required parts, maintenance manuals, and customized documentation (including curves and specifications) needed for continued operation. Contents ensure maintenance engineers have Sundyne Genuine Parts to simplify maintenance and minimize downtime/equipment failure.
---
Original Press Release:

Sundyne Debuts New Reliability Assurance Kits Featuring Genuine Parts



DENVER -- Sundyne recently announced the release of its Reliability Assurance Kits, a revolutionary customizable service program for the company's pump and compressor products. Designed to deliver streamlined ordering and inventory management for replacement parts, the new Reliability Assurance Kits contain everything necessary to keep Sundyne pumps and compressors running reliably and efficiently.



The path to keeping a refinery or chemical processing plant running smoothly rests on regular preventative maintenance of pumps and compressors using Sundyne Genuine Parts. Contained in a customized package matched to a Sundyne pump or compressor's unique serial number, Sundyne Reliability Assurance Kits are the exclusive single source for all required parts, maintenance manuals and customized documentation - including curves and specifications.



Contained in an all-in-one carrying case that can be inventoried under a single part number, these kits are designed to ensure that maintenance engineers have the exact Sundyne Genuine Parts they require for planned production shutdowns or critical repairs, simplifying maintenance and minimizing costly downtime or equipment failures.



"From purchasing to maintenance, our customers will find it easier than ever before to service the gearbox and wet end of their Sundyne pump or compressor," explained Sundyne President Jeff Wiemelt. "This makes it easier for customers around the world to keep their Sundyne pumps and compressors operating at their Best Efficiency Point with minimized effort and expense."



Currently, Sundyne is offering Reliability Assurance Kits for its LMV integrally geared and direct drive pumps, Sunflo pumps and both LMC and BMC compressors.



The new Reliability Assurance Kits will start shipping in February 2014, with a special discount being offered to customers who purchase a full kit. For more details or to request a customized quote, visit the Sundyne Reliability Assurance Kits information page.



About Sundyne

Headquartered in Arvada, Colo., USA, Sundyne is a leading manufacturer of highly reliable and efficient centrifugal pumps and compressors for use in the oil and gas, petrochemical, chemical, power generation and water processing industries. The Sundyne product portfolio features innovative high-speed integrally geared, multistage and sealless technologies that meet API and ISO standards. With a global channel consisting of more than 300 sales and service locations, and a manufacturing network that employs over 850 people across five facilities, Sundyne provides high quality engineered fluid handling solutions to customers around the world. For additional information, visit www.sundyne.com.



Contact: marketing@sundyne.com

More from Electronic Components & Devices