Pump and Reel Kit meets mobile service equipment needs.
Press Release Summary: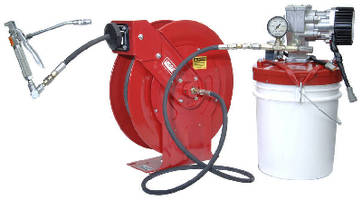 Designed to meet mobile service equipment application demands, fully integrated 12 VDC Reel-n-Flow Pump and Reel Kit is comprised of 12 Vdc FlowMaster® Pump and LFR High-Pressure Hose Reel. FlowMaster, rated to 6,000 psi, features built-in pressure switch and 19:1 gear ratio, which accelerates grease delivery in temperatures as low as -20°F. LFR Hose Reel comes with 50 ft of 3/8 in. high-pressure hose, high-flow control valve, and swivel.
---
Original Press Release:

Lincoln Offers New 12 VDC Reel-N-Flow Pump and Reel Kit



ST. LOUIS . . . Lincoln has introduced its new fully integrated 12 VDC Reel-n-Flow Pump and Reel Kit. Designed to meet the demands of mobile service equipment applications, the kit is comprised of Lincoln's 12 VDC FlowMaster® Pump and its LFR High-Pressure Hose Reel.

The 6,000 psi FlowMaster features a built-in pressure switch which eliminates the need for extra hardware and reduces installation time and labor. The pump's 19:1 gear ratio quickly delivers grease in temperatures as low as minus 20 degrees Fahrenheit, cutting manual lubrication time in half.

Lincoln's LFR Hose Reel comes complete with 50 feet of 3/8-inch high-pressure hose, a high-flow control valve and swivel. The kit also includes a 7-foot connecting hose for easy installation.

For more information on Lincoln's new 12 VDC Reel-n-Flow Pump and Reel Kit, contact Customer Service at 1-314-679-4200, Ext. 4410, or visit our web site at www.lincolnindustrial.com.

Established in 1910, Lincoln is a world leader in the manufacture and sale of lubrication and pumping equipment for use in vehicle service and industry. Lincoln headquarters are located at One Lincoln Way, St. Louis, Mo. 63120-1578.

Please forward all reader service inquiries to:
Lincoln Lead Response
4610 Planned Industrial Drive
St. Louis, MO 63120
lincolnleads@sbcglobal.net

Related