Pulsed Power Transistor targets avionics applications.
Press Release Summary: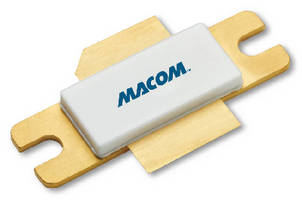 Operating over 1030–1090 MHz bandwidth, MAGX-001090-600L00 Ceramic GaN on SiC HEMT Power Transistor provides 600 W of output power with typ 21.4 db of gain and 63% efficiency. Device has low thermal resistance of 0.05° C/W and load mismatch tolerance of 5:1. With MTTF of over 600 years and low pulse droop of 0.2 dB, RF transistor is suited for pulsed avionics applications, such as secondary surveillance radar in air traffic control systems.
---
Original Press Release:

MACOM's New 600 W GaN on SiC Pulsed Power Transistor Delivers Industry's Highest Reliability Rating and Lowest Pulse Droop



Internally-matched, 600 W Power Transistor Provides High Gain, Efficiency and Ruggedness over the 1030 to 1090 MHz Bandwidth



LOWELL, Mass. — M/A-COM Technology Solutions Inc. ("MACOM"), a leading supplier of high-performance RF, microwave and millimeter wave products, today announced a new ceramic GaN on SiC HEMT Power Transistor for avionics applications.



The MAGX-001090-600L00 is a gold-metalized, matched GaN on Silicon Carbide, RF power transistor optimized for pulsed avionics applications, such as secondary surveillance radar in air traffic control systems. The MAGX-001090-600L00 provides 600 W of output power with a typical 21.4 dB of gain and 63% efficiency. The device has very low thermal resistance of 0.05 °C/W and best-in-class load mismatch tolerance of 5:1. In addition, the device has the lowest pulse droop of 0.2 dB and also can be used effectively under more demanding Mode-S ELM operating conditions.



MACOM's GaN transistor technology has been fully qualified with accelerated, high-temperature lifetime tests and this device has a predicted MTTF of over 600 years at a maximum junction temperature of 200 °C. The device also boasts very high breakdown voltages, which provides customers with reliable and stable operation even in extreme load mismatch conditions.



"MACOM's GaN power technology offers a significant advantage in higher gain, higher efficiency and improved reliability compared to similar Si Bipolar and LDMOS power transistors," said Paul Beasly, Product Manager. "The device also provides the highest load mismatch tolerance in its class - a critical parameter to ensure the highest reliability and performance in demanding avionics applications."



The table below outlines typical performance:


| | | |
| --- | --- | --- |
| Parameters | Units | MAGX-001090-600L00 |
| Frequency | MHz | 1030-1090 |
| Pout | W | 600 |
| Vd | V | 50 |
| Power Gain | dB | 21.4 |
| Drain Efficiency | % | 63 |
| Pulse/Duty | µs/% | 32/2 |
| Pulse Droop | dB | 0.2 |
| Load Mismatch Tolerance | VSWR | 5:1 |
| Rth | °C / W | 0.05 |
| MTTF | Hours | 5.2 ·106 |



Evaluation boards of MAGX-001090-600L00 are available from stock. Final datasheets and additional product information can be obtained from the MACOM website at: www.macomtech.com. Visit MACOM at Booth #169 at European Microwave Week in Nuremberg Germany, 8-10, October, to find out more about the MAGX-001090-600L00 and order samples today.



ABOUT MACOM:

M/A-COM Technology Solutions (www.macomtech.com) is a leading supplier of high performance RF, microwave, and millimeter wave products that enable next-generation Internet and modern battlefield applications.  Recognized for its broad catalog portfolio of technologies and products, MACOM serves diverse markets, including CATV, wireless and optical communications infrastructure, satellite, radar, automotive, industrial, medical, and mobile devices.  A pillar of the RF and microwave industry, we thrive on more than 60 years of solving our customers' most complex problems.



Headquartered in Lowell, Massachusetts, MACOM is certified to the ISO9001 international quality standard and ISO14001 environmental management standard. MACOM has design centers and sales offices throughout North America, Europe, Asia and Australia.



MACOM, M/A-COM, M/A-COM Technology Solutions, M/A-COM Tech, Partners in RF & Microwave, The First Name in Microwave and related logos are trademarks of MACOM. All other trademarks are the property of their respective owners.



FOR SALES INFORMATION, PLEASE CONTACT:

North Americas -- Phone: 800.366.2266

Europe -- Phone: +353.21.244.6400

India -- Phone: +91.80.43537383

China – Phone: +86.21.2407.1588



MEDIA CONTACT:

Husrav Billimoria

M/A-COM Technology Solutions Inc.

978-656-2896

Husrav.Billimoria@macomtech.com

More from Test & Measurement