Pulsed LED Light facilitates portable inspection duties.
Press Release Summary: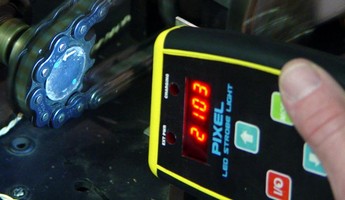 Suited for industrial inspection applications, Pocket Pixel uses reflector design to focus light from 8 LED lamps onto fast-moving machinery components. Pocket-sized unit offers low pulse duration (less than 50 µsec) and up to 50,000 flashes/min. Users can adjust flash duration from 10-250 µsec and set unit to automatically adjust proportionately to flash rate. Able to run for up to 2 hr continuously using NiCad batteries, product can be mounted or used as handheld unit.
---
Original Press Release:

Pocket-Sized Unilux Pixel Packs Portable Inspection Power



SADDLE BROOK, NJ July 7, 2008 - Unilux (www.unilux.com), the world's leading designer and manufacturer of industrial stroboscopic inspection systems, has introduced the Pocket Pixel, a pocket-sized, battery-powered pulsed LED light for high-speed industrial inspection applications, including plant maintenance, printing and converting and textile manufacturing. The Pixel uses its unique reflector design to focus 30-percent-brighter light than conventional Xenon industrial strobe lights on fast-moving machinery components and doubles the output of any other LED strobe in its class.

"LED strobes deliver the same functionality of traditional Xenon strobe but are more effective because the light gets brighter as the pulse duration increases or the pulse rate goes up," said Michael Simonis, president, Unilux. "With the reflector on our pocket-sized design, we're able to use eight LED lamps to get enough power out of them at low flash rates and low pulse duration (under 50 micro-seconds) to be highly effective wherever strobe lights are used. For textile manufacturing and plant maintenance applications, that can include monitoring a variety of moving parts, and for printing and converting, that can include monitoring the linear motion of packages and bottles and press registration..

"The Pocket Pixel allows flash rates up to 50,000 flashes per minute, far beyond what an ordinary strobe can do," he continued. "And while a Xenon strobe typically has a very short flash - 10 to 100 microseconds - the Pixel allows users to adjust a flash duration from 10 to 250 microseconds. Shorter flash durations minimize the blur of whatever you're watching, while longer durations provide more light. Users can set the Pocket Pixel flash rate to automatically adjust proportionately to the flash rate, giving the best balance in light intensity and flash duration."

The Pocket Pixel has a higher uptime potential than Xenon strobes because the standard LED lamp life is three to five years, and even if one of its eight lamps burns out, the unit produces enough light to perform inspection duties. When the single lamp of a Xenon strobe burns out, inspections must be suspended until the lamp is replaced. The Pocket Pixel can run for up to two hours continuously using rechargeable NiCad batteries. Unlike traditional Xenon strobes, the Pixel's sustainable, eco-friendly LED lamps do not emit ozone or UV rays, have minimal disposal requirements and consume less energy in operation.

The Pocket Pixel can be used as a handheld unit or mounted on an articulating arm or a selection of swivel mounts. Mounting permits continuous use with an AC converter.

About Unilux
Unilux Inc., headquartered in Saddle Brook, NJ, is in its 45th year of designing and manufacturing industrial surface inspection lighting systems for the textile, printing/converting, metals and papermaking industries and heavy-duty strobe lighting systems for the film and video industry. Unilux currently has sales representatives in 31 countries in North America, Latin America, Europe, Asia, Australia and Africa along with four service centers. For additional information, contact Unilux, Inc., 59 North Fifth St., Saddle Brook, NJ 07663 USA. Phone: 800-522-0801 (US only) 201-712-1266 (Worldwide) Fax: 201-712-1366 Internet: www.unilux.com.


More from Software