Pulse Generation Kit integrates with Ti:sapphire amplifier system.
Press Release Summary: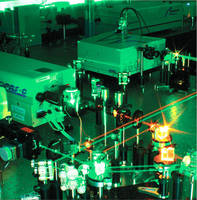 Terahertz pulse generation kit utilizes Newport optics, opto-mechanics, manual stages, and CONEX(TM)-based motorized solutions. Generated 800 nm Ti:sapphire laser pulse is focused into ambient air to generate air plasma, which produces pulse, and has oscillation that spans 1 psec and estimated pulse energy of 0.1-0.3 nJ/pulse. Kit can be integrated with Ti:sapphire amplifier to generate terahertz pulses which can used in linear, nonlinear, and time-resolved spectroscopy applications.
---
Original Press Release:

Newport Announces Terahertz Pulse Generation Kit



Irvine, CA - Newport Corporation, a worldwide leader in laser and photonic solutions, introduces the new terahertz (THz) pulse generation kit using a sub-35-fs Ti:sapphire amplifier system. The kit can be easily integrated with a Ti:sapphire amplifier to generate terahertz pulses which can be further used for linear, nonlinear, and time-resolved spectroscopy applications.

The THz pulse generation kit utilizes standard Newport optics, opto-mechanics, manual stages, and CONEX(TM)-based motorized solutions to provide high performance and accuracy. The 800 nm Ti:sapphire laser pulse (1 kHz, ~ 300 µJ per pulse) is focused into ambient air to generate the air plasma which produces THz pulses. With this innovative design, the damage threshold is not a concern as the air replenishes itself from pulse to pulse. The generated THz pulse has the oscillation that spans about 1 ps and has the estimated pulse energy of 0.1 - 0.3 nJ per pulse. Furthermore, the ability to recover the phase and the amplitude information of the THz field through electro-optic sampling enables the kit to function as a THz spectrometer, without further modification.

Keshav Kumar, Product Marketing Manager, Optics & Technology and Applications Center (TAC) Products, Newport Corporation, notes, "Our new air plasma based THz pulse generation kit is a preconfigured and versatile solution for researchers. It integrates Newport's existing world class standard photonics components to provide higher performance and superior reliability. It can be easily integrated with amplifier-based laser systems to generate high energy Terahertz pulses for several demanding applications. These include characterization of nanomaterials, detecting security sensitive explosives, biomolecular spectroscopy, and telecommunication applications. We are proud to introduce this exciting, new easy-to-use and economical solution to the research community."

For more information about Newport's terahertz generation solution please visit:
http://www.newport.com/THz.

About Newport Corporation

Newport Corporation is a leading global supplier of advanced-technology products and systems to customers in the scientific research, microelectronics manufacturing, aerospace and defense/security, life and health sciences and precision industrial manufacturing markets. Newport's innovative solutions leverage its expertise in high-power semiconductor, solid-state and ultrafast lasers, photonics instrumentation, sub-micron positioning systems, vibration isolation, optical subsystems and precision automation to enhance the capabilities and productivity of its customers' manufacturing, engineering and research applications. Newport is part of the Standard & Poor's SmallCap 600 Index and the Russell Microcap Index.

Company Contacts:

Kim Abair

Director, Global Marketing

Tel: 800-222-6440 / +1 949-863-3144

E-mail: kim.abair@newport.com

Keshav Kumar

Product Marketing Manager, Optics & TAC Products

Tel: +1 949-253-1717

E-mail: keshav.kumar@newport.com

More from Packaging Products & Equipment