Sensors / Detectors / Transducers
Pulsar 100™ Weather Station senses precipitation type with fast response.
Press Release Summary: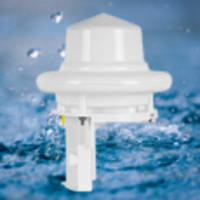 The Pulsar 100™ Weather Station delineates rain, freezing rain, hail, snow and sleet. The sensor detects precipitation from the first drop and helps in eliminating delays of an accumulation-based system. The Pulsar 100 monitors data through Weather MicroServer to provide real-time data collection and monitoring. The sensor is energy efficient and is ideal for difficult to access areas.
---
Original Press Release:
High Resolution Precipitation Sensor Added to Pulsar Line
Precipitation in its various forms can have significant impact on a range of operations, making it crucial to have a reliable source for current weather conditions. The new Pulsar 100™ Weather Station from Columbia Weather Systems offers the latest technology in rich precipitation data.
The 24-GHz Doppler radar precipitation-only monitoring system was developed in response to the requirements of Ferrari for vehicle testing, and "will be useful for applications that require fast response, high resolution, and precipitation types," according to Nader Khoury, CWS president. "The Pulsar 100 is a powerful sensor with the latest technology that gives us rich data for multiple types of precipitation."
The Pulsar 100 sensor delineates precipitation types such as rain, freezing rain, hail, snow and sleet. It is maintenance-free, making it useful in areas that are difficult to access. The low-energy sensor detects precipitation from the first drop, enabling users to make immediate decisions and eliminating the delays of an accumulation-based system such as tipping bucket.
With precise and instantaneous measurement, the Pulsar 100 offers a reliable source in many applications. Precipitation data in agriculture can promptly inform about rain, snow, and other conditions affecting crops. Having detailed information in public transportation and public safety applications aids in decision making for appropriate action response. According to the U.S. Department of Transportation (DOT), 24 percent of weather-related vehicle crashes occur on snowy, slushy or icy pavement, and 15 percent happen during snowfall or sleet. Precipitation also affects industries such as aviation, water management, and power generation.
Data is monitored via the Weather MicroServer offering a variety of real-time monitoring and data collection options including Internet and industrial protocols.
Integrating cutting-edge technology in met sensor and monitoring options, at Columbia Weather Systems our job is to make weather monitoring easy, so professionals can focus on doing their job well.
For more information visit: ColumbiaWeather.com
Contact This Company Download Spec Sheet
More from Controls & Controllers