Public Safety Digital Repeater supports VHF and UHF bands.
Press Release Summary: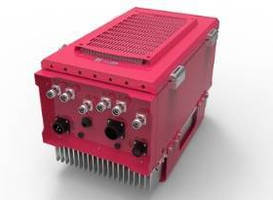 Supporting VHF or UHF frequency bands without any interference from commercial cellular networks, PSR-VU-9537 ensures public safety communications coverage inside buildings and campuses. Repeaters support both local connection via DHCP and remote connection via external wireless modem, allowing constant monitoring of extended network. Meeting IFC and NFPA codes, repeater comes in NEMA 4X compliant enclosure suitable for indoor/outdoor environments.
---
Original Press Release:

ADRF Launches PSR-VU-9537 Public Safety VHF and UHF Channelized Digital Repeater



A new repeater platform supports VHF and UHF frequency bands to ensure public safety communications coverage inside buildings and campuses



LAS VEGAS -- IWCE Expo -- Advanced RF Technologies, Inc. ("ADRF" or the "Company"), a leading provider of wireless coverage and capacity solutions for commercial and public safety radio frequencies, announced today the launch of the PSR-VU-9537, a VHF and UHF channelized digital repeater. The PSR-VU-9537 solves the problem of indoor coverage for public safety communications through a Fire/Life Safety code-compliant platform that supports either VHF or UHF frequency bands, the most commonly used RF frequencies by public safety agencies, and without any interference with commercial cellular networks.



"Our new PSR-VU-9537 represents the final piece to complete our comprehensive portfolio of Public Safety equipment including active fiber DAS and bi-directional amplifiers," said Julie Song, President of ADRF.  "We're thrilled to offer our valued customers and partners in the Public Safety world an advanced technological platform with the typical ADRF virtues of reliability, availability, and cost efficiency."



The PSR-VU-9537 continues ADRF's tradition of providing uncompromising performance in its repeaters, recognized throughout the wireless industry for their ease of use, superior filtering, excellent power efficiency, and proven reliability. ADRF repeaters support both local connection via DHCP and remote connection via external wireless modem, allowing for a constant means of monitoring your extended network. The user-friendly GUI makes configuring the unit quick and accurate.



Product Highlights:

--  Meets latest IFC and NFPA codes

--  NEMA 4X compliant enclosure suitable for both indoor and outdoor environments

--  Compatible with variety of ADRF battery backup options to comply with applicable Fire code

--  Alarming output to supervised circuits for antenna failure, amplifier failure, AC failure, power supply, battery, and charger failure

--  Supports up to 1 wideband and up to 8 non-contiguous narrow bands

--  Remote monitoring and control capability using Web-based GUI



The PSR-VU-9537 will be available for commercial deployment in April 2016. For product pricing and availability, please contact sales@adrftech.com. ADRF will showcase the PSR-VU-9537 at the IWCE Expo on March 21-24, 2016. To learn more about the PSR-VU-9537, visit www.adrftech.com.



About Advanced RF Technologies, Inc.

Advanced RF Technologies, Inc. ("ADRF") is an established, leading provider of in-building equipment and services that improve wireless coverage and capacity for the largest service providers and enterprise customers around the world. ADRF's product suite encompasses distributed antenna systems, repeaters, small cells, antennas, and passive components. ADRF is proud to be certified as a Minority Business Enterprise (MBE) and a Women's Business Enterprise (WBE) and has achieved TL 9000 and ISO 9001 certifications. We are also a member of the HetNet Forum, APCO, IWPC, as well as the Northeast DAS Forum. For more information, please visit http://adrftech.com/.



CONTACT: Seri Yoon, Director, Marketing, syoon@adrftech.com, 408-821-9304

More from Agricultural & Farming Products