Public Address System is EN54-16 and ISO7240-16 certified.
Press Release Summary: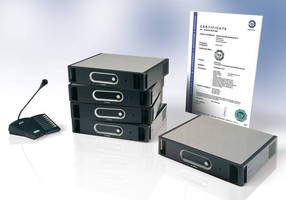 Praesideo Public Address and Emergency Sound System release 3.3 features zone-status indicators that show fault status when any failure of equipment or cabling prevents communication to any specific zone. Electromagnetic properties of system are compatible with EN50130-4 levels for alarm systems. System also offers functions that optimize voice alarms, outputs to fire alarm devices, and managed evacuation.
---
Original Press Release:
Bosch Launches Praesideo Public Address and Emergency Sound System Release 3.3
The first system to be EN54-16 and ISO7240-16 certified by TUV
Future-proof voice evacuation system
Enhanced functionality
Broad application scope for medium and large sized projects Bosch Security Systems announces the first emergency sound system to be fully certified by TUV to the new EN54-16 and ISO 7240-16 safety standards. The Praesideo Public Address and Emergency Sound System from Bosch has set the benchmark for the evacuation market from the time it was introduced and its functionality already covered most of the requirements that are now included in the new EN54 16 and ISO 7240-16 standards. Now, with release 3.3 of the Praesideo software, the company has extended the functionality of the system to ensure full compliance with these new standards. An example of the extended functionality includes new zone-status indicators that show a fault status when any failure of equipment or cabling prevents a specific zone from being addressed. Other functionality extensions relate to voice alarms, outputs to fire alarm devices and managed evacuation. Furthermore the electromagnetic compatibility (EMC) of the system has been upgraded to EN50130-4 levels for alarm systems and, with that upgrade, both hardware and software fully comply with the obligatory and optional requirements of EN54 and ISO 7240. Certification of compliancy to EN54-16 and ISO 7240-16 has been granted by TUV, the independent German quality and safety organization. The TUV is also the organization that formerly granted EN60849 and IEC60849 certification to the Praesideo equipment, software and production following extensive independent testing. EN 54-16 and ISO 7240-16 describe the requirements, test methods and performance criteria for voice-related components in fire alarm and detection systems. The European and international standards derived from these requirements promise to play a significant role in voice evacuation markets both in Europe and internationally. The standards are aimed specifically at ensuring that voice alarm control and indicating equipment provides the best possible communication for users, installers, the public and fire brigades, as well as providing uncompromised system availability and system supervision. EN54-16, in particular, will play a significant role in the market for voice evacuation as the member states of the European Union will in the future be obliged to replace their local standards by the EN54-16 standard. With this new certification plus the company's certified Praesideo partner network, Bosch expects to see further expansion of its share of the European and international voice evacuation markets. Contact person for press inquiries:
Bosch Security Systems
Erika Goerge
P.O. Box 12 70
D-85504 Ottobrunn
Germany
Phone: +49 89 6290-1647
Fax: +49 89 6290-281647
E-mail: [email protected]
www.boschsecurity.com The Bosch Group is a leading global supplier of technology and services. According to provisional figures, some 282,000 associates generated sales of roughly 45 billion euros in the areas of automotive and industrial technology, consumer goods, and building technology in fiscal 2008. The Bosch Group comprises Robert Bosch GmbH and its more than 300 subsidiaries and regional companies in over 60 countries. If its sales and service partners are included, then Bosch is represented in roughly 150 countries. This worldwide development, manufacturing, and sales network is the foundation for further growth. Each year, Bosch spends more than three billion euros for research and development, and applies for over 3,000 patents worldwide. With all its products and services, Bosch enhances the quality of life by providing solutions which are both innovative and beneficial. The company was set up in Stuttgart in 1886 by Robert Bosch (1861-1942) as "Workshop for Precision Mechanics and Electrical Engineering." The special ownership structure of Robert Bosch GmbH guarantees the entrepreneurial freedom of the Bosch Group, making it possible for the company to plan over the long term and to undertake significant up-front investments in the safeguarding of its future. Ninety-two percent of the share capital of Robert Bosch GmbH is held by Robert Bosch Stiftung GmbH, a charitable foundation. The majority of voting rights are held by Robert Bosch Industrietreuhand KG, an industrial trust. The entrepreneurial ownership functions are carried out by the trust. The remaining shares are held by the Bosch family and by Robert Bosch GmbH. Additional information can be accessed at www.bosch.com.