Pressure Sensors / Detectors / Transducers
PTH Fusion Sensor suits weather station applications.
Press Release Summary: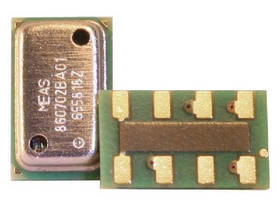 Housed in 5 x 3 x 1 mm² QFN package, Model MS8607-02BA01 utilizes piezoresistive sensor to measure pressure and temperature, and capacitive-type sensor for relative humidity. Unit converts uncompensated analog output voltages to 24-bit digital value for pressure and temperature measurements, and 12-bit digital value for RH. Using I²C communication and operating from 1.8–3.6 V, sensor features pressure range of 10–2,000 mBar, temperature range of -40 to +85°C, and humidity range of 0–100% RH.
---
Original Press Release:

MS8607-02BA01 PTH Fusion Sensor



MS8607-02BA01



Measurement Specialties, Inc. (NASDAQ: MEAS) has just released to production its MS8607-02BA01 digital PTH (Pressure, Temperature, Humidity) fusion sensor. This small QFN packaged 5 x 3 x 1mm³ integrated pressure, humidity and temperature sensor is ideal for weather station applications embedded into compact devices, or any application in which pressure, humidity and temperature monitoring is required.



The MS8607-02BA01 includes two sensors with distinctive MEMS technologies to measure pressure, humidity and temperature. The first sensor is a piezoresistive sensor providing pressure and temperature, and the second is a capacitive-type sensor providing relative humidity. Each sensor is interfaced to a ΔΣ ADC integrated circuit for digital conversion where the MS8607-02BA01 converts the uncompensated analog output voltages to a 24-bit digital value for the pressure and temperature measurements, and a 12-bit digital value for the relative humidity measurement.



This sensor requires 8 pads for operation, uses I²C communication and operates at a 1.8 – 3.6V supply voltage. With an operating pressure range of 10 to 2000mBar, it has a pressure accuracy of ±2.0mBar (@25°C, 300…1200mBar) and pressure resolution of 0.016mBar. Operating at a humidity range of 0 – 100% R.H., it has a humidity accuracy of ±3.0% R.H. (@25°C, 20…80% R.H.) and humidity resolution of 0.04% R.H. In regards to temperature, this sensor operates at -40°C to +85°C with a temperature accuracy of ±2.0°C (-20°C…+85°C) and temperature resolution of 0.01°C.



The MS8607-02BA01 is well suited for applications in the consumer electronic and industrial marketplace such as smartphones and tablet PCs, HVAC applications, weather stations, printers, and home appliance and humidifiers.



Measurement Specialties, Inc. designs and manufactures sensors and sensor-based systems. The company produces a wide variety of sensors and transducers to measure precise ranges of physical characteristics such as pressure, force, vibration, torque, position, temperature, humidity, fluid properties, mass air flow and photo optics. Measurement Specialties uses multiple advanced technologies – including  piezo-resistive, electro-optic, electro-magnetic, variable reluctance, magneto resistive, digital encoders, thermistors, thermocouples, RTDs, capacitive, resonant beam, application specific integrated circuits (ASICs), micro-electromechanical systems (MEMS), piezoelectric polymers and strain gauges to engineer sensors that operate accurately and cost-effectively in customers' applications.



For more information about Measurement Specialties and our products, e-mail pfg.cs.amer@meas-spec.com or visit us at www.meas-spec.com.



Bobby Lee

Office (510) 498-1570 x241

bobby.lee@meas-spec.com





More from Optics & Photonics