PTFE Regulator can withstand high pressures.
Press Release Summary: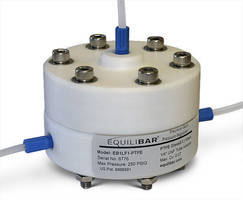 Designed to use a flexible, frictionless diaphragm as the only moving part, Equilibar back pressure regulators are able to accurately maintain pressure over a wide range of flow rates, including high flow rates. Now this novel design is available for applications requiring PTFE (Teflon) wetted parts. The machined Teflon© body can use 1/8″ and 1/16″ PTFE tubing and is rated to 250 psig and 500 psig.
---
Original Press Release:

Equilibar Offers Revolutionary PTFE (Teflon©) Regulator for High Pressure



Frictionless Diaphragm is Only Moving Part



Fletcher, NC — Responding to customer demand, Equilibar Precision Pressure Control now offers its unique regulator design for applications that require all PTFE (Teflon©) wetted parts.  This development promises to greatly expand the number and type of systems that may benefit from using a regulator that is able to withstand aggressive chemistries and also maintain pressure over a wide range of flow rates, including high flow rates.



Equilibar's machined virgin PTFE body is available in 1/16 inch and 1/8 inch threaded port connections with maximum working pressures of 500psi and 250psi.  PTFE tubing may be installed using cone-and-gripper style commercially available fittings.  Heli-Coil stainless steel 316 thread insets (non-wetted) are used to provide a robust connection.



The Equilibar© back pressure regulator works differently than traditional back pressure regulators.  Its sensitive flexible diaphragm is the only moving part and is used to both sense the media pressure and act as the main regulating valve.  To control the amount of media passing through the regulator, the diaphragm itself is used to directly form a seal against the internal orifices.



Equilibar's novel approach to regulating back pressure solves many problems found with more traditional valve designs.  Since the diaphragm is the only moving part, there is no need for sliding seals and the friction that accompanies them.  The result is pressure control with greater accuracy and lower hysteresis.



All Equilibar back pressure regulators are pilot operated, with the back pressure controlled in a precise 1 to 1 relationship to the pilot pressure.  The pilot pressure may be controlled using a standard hand operated pneumatic regulator or an electronically controlled pressure regulator.  For convenience or safety reasons, the hand operated regulator may be mounted remotely.  The electronic pressure regulator makes it easy to integrate the Equilibar back pressure regulator into a closed loop or PID controlled automated system.



Located in the Blue Ridge Mountains of North Carolina, Equilibar Precision Pressure Control provides custom solutions for the most demanding pressure control applications worldwide.  Equilibar engineers focus on rapid customer response, technical excellence and a creative, collaborative approach.



For more information, visit Equilibar's PTFE regulator page at  http://www.equilibar.com/higher-pressures-ptfe-regulators/  or email  inquiry@equilibar.com .



For content information, contact David Reed at davidreed@equilibar.com or 828-650-6590.

More from Agricultural & Farming Products