PTFE/HDPE Filters suit bulk chemical processing.
Press Release Summary: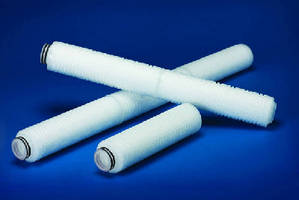 Available in HDPE cartridge with 0.1 µm, 30 nm, and 20 nm retention ratings, GORE® PTFE Filters support fabrication of semiconductors and flat panel displays where optimum purity is critical. Combining low metal ion and organic extractables of all-HDPE cartridge, filters enable drop-in retention upgrade without sacrifice to existing system flow. PTFE membrane technology provides large, porous area available for fluid flow.
---
Original Press Release:

Gore Introduces First 20 Nm Rated PTFE/HDPE Filter in New Family of Filters for Bulk Chemical Processing of Semiconductors and FPDS



Elkton, MD, USA, -- W. L. Gore & Associates (Gore) has introduced the world's first 20 nm-rated polytetraflouroethylene (PTFE) filter that is available in a high density polyethylene (HDPE) cartridge. It is part of a new family of PTFE membrane/HDPE filters optimized for the bulk processing of high-purity chemicals used in the fabrication of semiconductors and flat panel displays (FPDs) where optimum purity is critical. The new GORE® Filters feature the company's latest advance in PTFE membrane technology to provide the highest particle retention possible while maintaining process capacity.

The new PTFE/HDPE filters are now available in three retention ratings - 0.1 µm, 30 nm and 20 nm. The 20 nm filter is world's first to feature a 20 nm-rated PTFE membrane in an HDPE cartridge. The advanced PTFE filter membrane features a unique structure to deliver exceptional performance. Compared to conventional filtration media, this new PTFE membrane technology provides a significantly increased open porous area available for fluid flow, and the structural characteristics of the membrane provide a high level of retention.

Combined with the low metal ion and organic extractables of an all-HDPE cartridge, these new 20 nm-rated PTFE/HPDE filter cartridges enable a drop-in retention upgrade without any sacrifice to existing system flow. At a 20 nm retention rating, these filters maintain the high flow rate of a comparable best-in-class competitive 0.05 µm-rated PTFE membrane filter while increasing the retention capacity.

Samples are of the newest GORE® Filters PTFE/HDPE are now available in 0.1 µm, 30 nm and 20 nm retention ratings from W. L. Gore & Associates, Inc. For more information, call 1.800.542.3146 or, outside the U.S., +1.410.506.7516 Or visit www.gore.com/hdpefilters.

About W. L. Gore & Associates, Inc.

GORE(TM) PTFE filtration media has been used for decades in the world's best-performing filters for semiconductor, electronics, ultrapure water and high-purity chemical applications. For more than 30 years, Gore has supplied innovative, reliable PTFE-based products that help microelectronics manufacturers increase process yields, reduce equipment downtime and improve throughput. Gore is a leading manufacturer of thousands of advanced technology products for the electronics, fabrics, industrial and medical markets. Perhaps best known for its waterproof and breathable GORE-TEX® fabric, the company's portfolio features a diverse array of innovations, including everything from guitar strings to life-saving cardiovascular devices. Gore is headquartered in Newark, DE, posts annual sales of $3 billion, and employs 9,000 associates in 30 countries worldwide. Gore is one of only four companies included in every selection of Fortune Magazine's "100 Best Companies to Work For" since the list began in 1984. To learn more, visit gore.com.

GORE, GORE-TEX and logo design are trademarks of W. L. Gore & Associates, Inc.
© 2012 W. L. Gore & Associates, Inc

More from Optics & Photonics