PTFE Dispersions in IPA are designed as dry film lubricant.
Press Release Summary: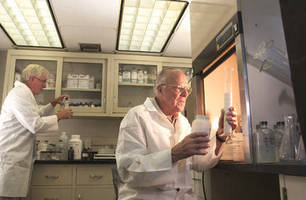 Available as 25%, 15%, and 5% dispersions in isopropyl alcohol (IPA), McLube PTFE (polytetrafluoroethylene) Dry Film Dispersions provide low coefficient of friction and have average particle size of less than 10 microns. Products are chemically inert and can can be applied to metal, plastic, rubber, leather, and fabric surfaces. Thermally stable to 6,150°F, dispersions are supplied as concentrates and may be used as dry film lubricants, mold release agents, and antistick coatings.
---
Original Press Release:
New PTFE Dispersion in IPA
The McLube Division of McGee Industries, Inc. has developed a new PTFE (polytetrafluoroethylene) dispersion in IPA (Isopropyl Alocohol). McLube PTFE Dry Film Dispersions are available as 25%, 15% and 5% dispersions in isopropyl alcohol (IPA). They will provide an extremely low coefficient of friction, are chemically inert and thermally stable to 6150 F. The average particles size is less than 10 microns. McLube PTFE Dispersions can be applied to all types of metal surfaces as well as plastic, rubber, leather, and fabric surfaces. They are supplied as concentrates and are normally diluted prior to their usage. Products are designed to be used as: Dry Film Lubricants Mold release agents/ Antistick Coatings Dry Film Lubricants McLube PTFE Dry Film Dispersions have a low coefficient of friction allowing for a dry film lubricant with super performance attributes such as thermal and chemical stability, cleanliness and excellent slip-stick properties. Coatings will increase the wear life of parts by reducing abrasion. Applications include: electrical connectors, bearings, slides, belts, gaskets, Fasteners, fabrics, leather, rubber, plastics, gears, cables, rope, thread, locks, windows, saw blades, camera and audiovisual equipment, metalworking operations. Mold Release Agents/Antistick Coatings They are used to mold a variety of rubber, plastic and composite parts and materials. An applied coating provides excellent adhesion allowing for multiple parts to be molded with no transfer. The dry film coating provided by McLube Dry Film Dispersions will provide a synergy of antistick as well as lubricity characteristics. Applications include: rubber, plastic and composite parts and materials, Mandrel lubrication, filament winding, SMC molding, cables and wiring. McLube PTFE Dry Film Dispersions are also being used as additives to improve lubricity and promote thickening when added to liquids and semisolid formulations. Typical Product Data Color and Appearance.......................Translucent, milky-white liquid Dispersing Medium...........................Isopropyl Alcohol Particle Size.............................. Less than 10 Microns Melting Point.............................615F Key Performance Properties Excellent Adhesion to Substrates Clean, dry, colorless, nonoily film High degree of Slip, Flow and Lubricity No Transfer Semi-Permanent Release Performance Operator Friendly Environmentally Safe Coating Thermally Stable Chemically Inert Samples are available for evaluation
More from Laboratory and Research Supplies and Equipment