PT-3000 Puller/Tensioner comes with curbside motor mounted frame.
Press Release Summary: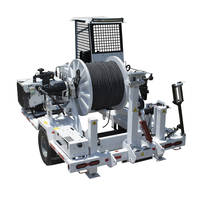 Equipped with dual purpose levelwind, reels and rope, PT-3000 Puller/Tensioner has capacity of pulling up to 3,000 lb overhead and up to 7,500 lb underground. Available in single and dual tire configurations suitable for cramped work areas and wet working conditions respectively, product comes with built in underground sheaves. PT-3000 features pad mount transformer attachment for handling tough approach angles.
---
Original Press Release:
Sherman+Reilly™ Launches New Versatile PT-3000 Puller/Tensioner
Sherman+Reilly, a Textron Inc. (NYSE:TXT) company, launches the new PT-3000, a single drum, multi-purpose distribution puller/tensioner capable of pulling up to 3,000 pounds overhead and up to 7,500 pounds underground.
"We designed the PT-3000 around three core objectives - versatility, economy and reliability." says Carlos Bellot, Electrical Engineering Manager. Equipped with a dual purpose hydraulically actuated levelwind, the PT-3000 can handle most utility distribution line build projects. Besides the ability to serve as an overhead puller and a tensioner, the PT-3000 also comes ready to serve double duty as an underground puller with its built in underground sheaves.
The versatility of the PT-3000 is tough to match. Addressing overhead and underground applications, the unit offers a suite of accessories that make the PT-3000 a true workhorse. The frame is outfitted with a curbside motor mount for pilot line winding that utilizes Sherman+Reilly's Spider® System, an integrated set of special equipment, reels, rope and accessories for fast and easy installation of pulling lines with distribution class conductors.
Sherman+Reilly has added an optional hydraulically actuated Pad Mount Transformer Attachment (PMTA) in the underground package to address tough approach angles and allow for optimized setup for underground pulling applications.
Cramped work areas, narrow easement access and existing structures pose significant challenges to line crews. The PT-3000 addresses these challenges with the single axle, dual tire configuration for easy maneuverability in tight, off-road or wet working conditions.
The multiple functional capabilities of the PT-3000 provide a significant return on investment. Being able to standardize on a common platform to address both overhead and underground applications is key in terms of training time, asset utilization and standard work practices. For more information on the PT-3000 Puller/Tensioner, visit www.sherman-reilly.com.
About Sherman+Reilly™
Since 1927, Chattanooga-based Sherman+Reilly, a Textron company, has been a leading manufacturer of tools and equipment for underground and aerial transmission, and distribution of electrical power and communications systems, including a complete line of bundle blocks, pullers, tensioners and reel trailers. More information is available at www.sherman-reilly.com.
About Textron Inc.
Textron Inc. is a multi-industry company that leverages its global network of aircraft, defense, industrial and finance businesses to provide customers with innovative solutions and services. Textron is known around the world for its powerful brands such as Bell Helicopter, Cessna, Beechcraft, Hawker, Jacobsen, Kautex, Lycoming, E-Z-GO, Greenlee, Textron Off Road, Textron Systems, and TRU Simulation + Training. For more information, visit: www.textron.com.
Contact:
Ryan Berg
Director of Product Management
Sherman+Reilly, Inc.
400 W 33rd Street
Chattanooga, TN 37410 USA
Phone: (423) 756-5300
More from HVAC