PSA Nitrogen Generator can store up to 13,500 cf of N2 gas.
Press Release Summary: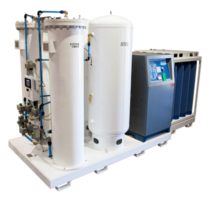 PSA-6000/PB-4500 PSA Nitrogen Generator is equipped with 4,350-psi boost pump that is used for compressing air into high pressure cassettes. Enabling users to continuously produce 99.99% pure N2 gas at 4,350-psi pressure, unit is suitable for laser cutting applications. Generator comes in 48 x 48 in. and 60 in. tall rack.
---
Original Press Release:
The Green Energy Nitrogen Generator by Into-N2
INTO-N2, LLC, builds Nitrogen Generators for the laser cutting industry.
This NEW N2 Generator generates Nitrogen in off peak electric hours and stores the N2 in High Pressure Cassette's for use by Laser Cutting shops at peak electric hours.
99.99+% purity guaranteed from a PSA Nitrogen Generator, not liquid N2.
New high pressure, high purity PSA N2 generator with 13,500 cf of N2 gas storage. Purity is 99.99% at 4,350 psi.
INTO-N2 has just tested their highest purity N2 generator. June 30th 2017 was the final testing of our ultra-high purity, high pressure PSA Generator. INTO-N2 is offering these innovative N2 generators to the laser cutting industry. The testing took place at Burns Machinery (who owns INTO-N2) at their facility in Minden, NV.
This new ultra-high purity, high pressure N2 generator allows users to continuously produce 99.99% pure N2 gas and store it in high pressure cassettes. The N2 is then drawn out on an as needed basis for use as an assist gas for laser cutting machines.
The PSA-6000/PB-4500, shown in the picture above, has been sold and shipped to a customer in Pennsylvania, who had been using bulk liquid Nitrogen for cutting stainless steel sheets. The customer requires 99.99% pure N2 to obtain the bright Nickel color on the cut edge of those sheets. The return on investment (ROI) for this customer will be less than 24 months.
Burns Machinery, the parent company of INTO-N2, has been building aerospace machinery since 1981. In 2013, they purchased their first fiber laser cutting machine. After that purchase, the company was spending $15,000 per month for compressed nitrogen assist gas for their new fiber laser. Greg Burns, the owner and founder of IntoN2 and Burns Machinery, is a mechanical engineer from Cal Poly Pomona, and has been designing machinery since graduating in the 1970's. He decided he could build his own nitrogen generator and cut his monthly gas bill to $0, leading to not only higher profits for his company, but also leading to an overall cost reduction for his customers. Burns designed his first nitrogen generator three and a half years ago. In fact, as a testament to the design's durability, his company is still using that original generator. Soon after the development of that first nitrogen generator, the laser manufacturer who sold Burns his fiber laser said they knew a couple other shops who would like to generate their own Nitrogen. That was the moment INTO-N2 was born.
Three and a half years and fourteen Nitrogen Generators later, INTO-N2 innovated again and created 3 new models of N2 generators that constantly produce 99.99% pure N2 and compressing it to 4,350 psi. The N2 is stored in cylinders which are held securely in a custom-made rack that also holds the manifold. The rack has a secure cover protecting the high pressure N2 lines of the manifold. The rack itself measures 48" X 48" and is 60" tall.
The INTO-N2 Generators use the customer's compressed air system that is plumbed into the 150 psi 240-gallon receiver on the generator skid; from here it swings back and forth between the CMS (Carbon Molecular Sieve) towers that remove oxygen. Every 60 to 90 seconds the towers flow N2 into the low-pressure storage tanks and release the trapped oxygen and other gas impurities into the atmosphere. Finally, the low pressure N2 is pulled out of the 240-gallon storage tank and is then compressed by a high-pressure boost pump achieving 4,350 psi gas and is pumped into the storage cassette.
The combination of the PSA INTO-N2 Generator with the 4,350-psi boost pump and highpressure storage cassette make this unit completely new to INTO-N2's product line of N2 generators. The off-peak generation of N2 is a real cost savings in electricity to the laser cutting shops, and classifies the INTO-N2 generator as GREEN FRIENDLY.
Contact:
Bill Craig
Director of Business Development, Marketing & Sales
INTO-N2, LLC.
2554 Business Parkway,
Minden, NV 89423
Phone: 775-267-3035
Fax: 267-2585
Contact: bill@into-n2.com
More from Communication Systems & Equipment