PSA Foil Tape suits photovoltaic module applications.
Press Release Summary: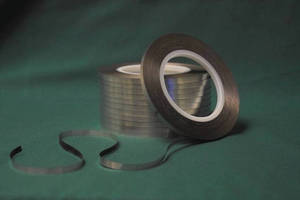 With 1 oz tin-plated copper foil backing, 2.4 mil pressure-sensitive adhesive (PSA) foil tape ARclad® 90038 offers high electrical conductivity and corrosion resistance, and provides alternative to bus bar material used in thin-film PV modules. It features homogenous conductive adhesive technology that forms stable, conductive bonds to electrical contact points even under extreme environmental stress. UL 510 rated tape is supplied in roll or spooled format.
---
Original Press Release:

Adhesives Research Offers Electrically Conductive Foil Tape for Bus Bar Components in Photovoltaic Modules



GLEN ROCK, Pa. (March 31, 2009) - Adhesives Research, a leading developer and manufacturer of custom pressure-sensitive adhesive tapes, specialty coatings, films and laminates, offers electrically conductive pressure-sensitive adhesive (PSA) foil tape, ARclad® 90038, as an alternative bus bar material for delivering highly-reliable conductivity in thin-film photovoltaic (PV) modules.

In thin-film PV modules, the electrical current generated in the module's semiconductor is extracted by contacts on the front and rear of the cell. Widely spaced thin metal strips, often referred to as fingers, transport the electrical current generated within the cells to a larger metal bus bar strip. The purpose of the bus bar is to efficiently gather the electrical current from the individual fingers and transport the current from the solar module to a nearby junction box.

ARclad® 90038 is a 2.4-mil, highly conductive PSA tape featuring a 1-ounce tin-plated copper foil backing and demonstrates excellent conductivity and corrosion resistance for bus bar applications. Rated UL 510, this tape features Adhesives Research's patented homogenous conductive adhesive technology that forms exceptionally stable, conductive bonds to electrical contact points even under extreme environmental stress. The adhesive-coated foil tape construction offers a clean, easy-to-use format for efficient application, unlike copper ribbons and conductive adhesives or epoxies that require a two-step bonding process. ARclad® 90038 can be provided in roll or spooled format to minimize line downtime.

Adhesives Research also offers a full range of PSA products to complement ARclad® 90038 for a number of PV module applications, including electrical interconnections, wire management, bonding and assembly and encapsulation.

Founded in 1961, Adhesives Research offers problem-solving capabilities and custom solutions in adhesive polymerization, mixing, adhesive coating and release liner design supported by extensive product development and analytical support. The company's North American and Limerick, Ireland, facilities are certified to the updated ISO 9001:2000 standard.

Adhesives Research's pressure-sensitive adhesives are used around the world in electronics, displays, wireless telecommunications, window fabrication, and the pulp and paper industry, as well as in medical diagnostics and devices, wound care and pharmaceuticals/transdermals. Based in Glen Rock, Pennsylvania, Adhesives Research also operates manufacturing facilities in Ireland and Colombia; has sales and marketing offices in Germany, Great Britain and Singapore; a representative office in Shanghai, China; and sales representation in Japan, Korea and Taiwan.

For more information on Adhesives Research and its products, call 1-800-445-6240 (1-717-235-7979 outside North America) or visit our website at www.adhesivesresearch.com.

Adhesives Research,

400 Seaks Run Road,

Glen Rock,

PA 17327

United States

More from Material Handling & Storage