PSA Abrasive Strips are made of wet/dry silicon carbide paper.
Press Release Summary: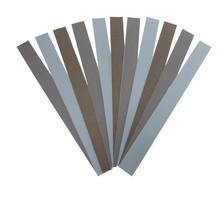 PSA Abrasive Strips are available in a wide variety of grits ranging from 220 to 1500. Units come in 1 x 11 in. size and offered in 25 pieces per pack. Products come with strong adhesive backing and are suitable for wet applications.
---
Original Press Release:
BORIDE Introduces New PSA Silicon Carbide Coated Abrasive Strips
BORIDE Engineered Abrasives is pleased to announce the addition of PSA Silicon Carbide Coated Abrasive Strips to their product offering. These highly sought-after strips are a fantastic complement to BORIDE's continuously growing polishing product line.
BORIDE's PSA Silicon Carbide Abrasive Coated Strips are made from high quality wet/dry Silicon Carbide paper sourced from Germany. They have a strong adhesive backing which tolerates wet applications and are available in a wide variety of grits ranging from 220 to 1500. Finer grits are also available upon request. These 1 x 11" strips are sold in quantities of 25 pieces per pack and are available via our global network of distributors or online at borideabrasives.com.
"This new product stemmed from a customer request," says Sales and Product Manager, Betsi Burns. "At BORIDE, we listen to our customers, strive to understand their needs and deliver high quality products that our entire customer base can benefit from."
Learn more about our new PSA Silicon Carbide Coated Abrasive Strips as well as the rest of BORIDE's full line of mold polishing equipment and supplies on our website www.borideabrasives.com.
About BORIDE Engineered Abrasives
For nearly forty years, BORIDE Engineered Abrasives has developed and manufactured abrasive products for industrial and consumer applications. BORIDE also distributes products sourced from our global network of suppliers and industry experts that our customers need to improve their quality and productivity.
More from Construction Equipment and Supplies