PRS Product Recovery System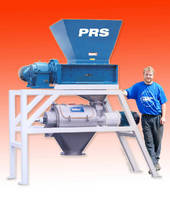 The unique PRS PRODUCT RECOVERY SYSTEM quickly separates bulk product from packaging, providing an excellent solution for recycling, disposal, reprocessing or product recovery.

The PRS combines shredding technology with a unique sifting system. Both products and packaging are first shredded. The liquid or dry contents are then separated from packaging and discharged from one port. Containers and packages are transported to a second discharge port. This separating system is perfect for expired or returned products packaged in cardboard, plastic, metal cans, corrugated cartons and more. Both the product and packaging are readily available for recycling or reprocessing.

The efficiency of this unit allows for significant savings in waste reduction and labor costs, resulting in excellent return on investment.

The system is provided in carbon steel construction as well as in stainless steel. An automatic wash system is available as an option. The shredder is quiet in operation and easy to use and maintain.

For more information contact Franklin Miller Inc. 60 Okner Parkway, Livingston, NJ 07039. 973-535-9200 fax 973-535-6269 email: info@franlinmiller.com.

More from Agricultural & Farming Products