Proximity Sensors offer ASIC technology.
Press Release Summary: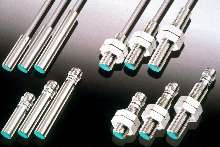 Inductive Proximity Sensors with preprogrammed ASIC technology are available in 6.5, 8, and 12 mm diameter sizes, with body lengths as short as 22 mm. Sensing ranges are 2, 2, and 4 mm, respectively. Housings are offered in stainless steel and nickel-plated brass. Sensors feature PNP/NPN output and come in cable or connector versions. They are manufactured to ISO 9001 and clean room standards.
---
Original Press Release:

Baumer Electric Develops New Streamlined ASIC Sensor Technology


Redesigned Inductive Proximity Sensors Are First Products To Offer Improved Consistency and Reliability At Reduced Cost

Southington. Conn.-October 28, 2002. Baumer Electric has developed a new preprogrammed ASIC sensor technology that will replace the more costly IC technology commonly used in many inductive sensor products. Most Baumer Electric inductive sensors will eventually offer the new streamlined ASIC technology, which will provide consistent sensing characteristics and enhanced durability in even smaller housing sizes.

The company's first sensors to offer the streamlined ASIC technology are the 6.5, 8, and 12 mm diameter inductive proximity sensors, now available in body lengths as short as 22 mm. Sensing ranges for these sensors are 2, 2, and 4 mm respectively. Housings are available in stainless steel and nickel-plated brass, and PNP/NPN output and cable or connector versions are available.

The circuit board designed into the streamlined ASIC sensors can be reduced to approximately half the size of the boards used in older sensors, allowing Baumer Electric to include some of the industry's shortest body lengths in their offering. To enhance sensor durability, these ASICs require fewer peripheral components and have fewer solder points, minimizing the number of parts that can possibly fail.

From the implementation of this new technology, users of Baumer Electric streamlined ASIC sensors will enjoy cost savings of as much as 25 percent over traditional IC sensors. Savings result from Baumer's ability to manufacture the ASIC sensors using fully automated assembly processes, fewer manufacturing steps, and reduced programming. The company must also inventory fewer parts, another source of cost savings. The sensors and associated ASIC devices are made in Baumer's Switzerland facility under the same strict ISO 9001 manufacturing and clean room standards as all Baumer Electric sensors.

For more information on the company's new streamlined ASIC sensor technology, contact Baumer Electric at (800) 937-9336, through the Internet at www.baumerelectric.com, or via e-mail at sales.us@baumerelectric.com. Baumer Electric is a leader in precision sensing. As a manufacturer of all types of high-quality position sensors since 1952, the company offers customer-oriented sensor solutions for every automation need.

www.baumerelectric.com o 1-800-YES-WE-DO (937-9336)
Leading in Precision Sensing

More from Software