Proximity Sensors detect up to 8 meters.
Press Release Summary: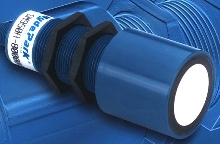 SUPERPROX(R) Model SM900A-8 proximity sensors have 30mm housing, sensing range of 203mm to 8m, and On/Off output. Functionality selections include normally-open or normally-closed NPN and PNP outputs, complementary NPN or complementary PNP outputs. Available in ULTEM(R) plastic housing, sensors detect all materials regardless of color, shape and composition. Temperature compensation allows for operation in temperatures from -10 to 60°C.
---
Original Press Release:
30MM Prox Detects Up To 8 Meters

DAYTON, Ohio (January 14, 2002)
Whether the object is just a few inches from the sensor or as far away as 26 feet, the new SUPERPROX® Model SM900A-8 series of ultrasonic proximity sensors offers a variety of sensing solutions. Benefits include the mounting convenience of a 30 mm housing, a matchless sensing range of 203 mm (8") to 8 m (26'), the shortest deadband in the sensing industry, and unique factory configurability for long-range, sensing applications requiring a simple On/Off output. Functionality selections include Normally-Open or Normally-Closed NPN and PNP outputs, Complementary NPN or Complementary PNP outputs, and a variety of response times and default sensing window setup limits. Applications for this self-contained sensor extend to most every industry or business requiring reliable proximity detection
within the long sensing range. Available in rugged ULTEM(R) plastic housing, the sensors detect all materials regardless of color, shape and composition (transparent or opaque, liquid or solid), including clear glass, powder, food products, metal, plastics and objects that change colors. By virtue of the 75 KHz
frequency, the sensor's wide 20-degree beam is especially effective in detecting objects with a wide variety of surface profiles.

The sensors are not affected by changing light conditions, colors and noise. An epoxy transducer face allows the encapsulated sensor to perform in a wide range of harsh environments, including those involving acids, bases and oils. For outdoor applications, the sensors have temperature compensation for operation In temperatures ranging fromr -10° to 60° C (14° to 140° F).

All models are CE certified and are equipped with a pushbutton to set the limits for the sensing "window" which can be as small as 127 mm (5.00"). For long distances or tall-tank applications, when the pushbutton used to set the sensing window limits is beyond the operator's reach and as far away as 200 feet, an optional, hand-held, setup/display accessory is available to remotely set the limits and display the object's distance. It can also be used in conjunction with a desktop or laptop computer to configure the sensor's functionality. Operating on 12 to 24 VDC, the sensors are equipped with a multicolor sensing
status LED and a red LED. During setup and operation, a multicolor LED indicates the limits setup and operational modes; a red LED illuminates when the output is in an active (On) state.


More from Material Handling & Storage