Motion Sensors / Detectors / Transducers
Proximity Sensors deliver pulse output up to 120 Vac/Vdc.
Press Release Summary: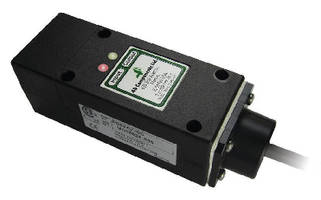 With solid state relays, Proxswitch P8003V10C and P8004V10C are specifically designed for speed monitoring applications requiring pulse output up to 120 Vac/Vdc for PLC integration. Both sensors can also be used to detect shaft, gate, or slide position as well as object presence. Fully encapsulated in polycarbonate body that is corrosion- and abrasion-resistant, dust-tight and waterproof, sensors are CSA class II division 1 groups E, F, and G approved for hazardous dust environments.
---
Original Press Release:

P800 Proxswitch: Now with Pulse Output up to 120 VAC/VDC for PLC Integration



Morton, IL — 4B Components Ltd., a worldwide manufacturer of material handling and electronic components for bucket elevators and conveyors, has developed two new models within the P800 line of proximity sensors.



The P800 Proxswitch is now available in two versions (P8003V10C & P8004V10C) with solid state relays specifically designed for speed monitoring applications requiring a pulse output up to 120 VAC/VDC for PLC integrations.  Both sensors can also be used to detect shaft, gate or slide position as well as object presence. 



For speed monitoring applications, the P800 can be used with 4B's patented Whirligig® guarded target and sensor mount.  The Whirligig is available with 1, 2, 4 or 8 pulse targets and attaches to the rotating shaft by either a 1/2" tapped hole, or magnetically using 4B's Mag-Con™ adapter. 



The P800 is fully encapsulated in a polycarbonate body that is corrosion and abrasion resistant, dust-tight and waterproof (IP67).  The P800 is CSA class II division 1 groups E, F & G approved for hazardous dust environments.  No contact is made between the sensor and the object being monitored.



Additionally, 4B's SpeedMaster™ can be used with both new P800 models to test their functionality after the initial installation, and during routine maintenance procedures.  The SpeedMaster™ is the only device that accurately tests the calibration of a speed switch, and allows testing of the alarm and shutdown features of the sensor while installed on the machine shaft.



Datasheet Link - http://www.go4b.com/usa/datasheets/p800-proxswitch.pdf



ABOUT 4B COMPONENTS LIMITED:

Founded in 1971 as a subsidiary of The Braime Group, 4B has been an industry leader in developing high quality, innovative, and dependable material handling components for the agricultural and industrial sectors.



4B's product line ranges from elevator buckets, elevator bolts and drop forged conveyor chain to level monitors, speed switches and hazard monitoring systems.



With offices in North America, Europe, Asia, Africa and Australia along with a worldwide network of distributors, 4B can provide practical solutions for applications in any location.



PRESS CONTACT:

Robert Gaul

4B Components Ltd.

Marketing Manager

309-698-5611

rgaul@go4b.com

www.go4b.com/usa

More from Agricultural & Farming Products