Proximity Sensor detects tiny objects 2 in. away.
Press Release Summary: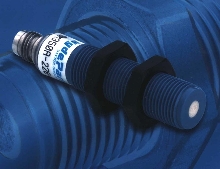 Extended range 12mm ultrasonic SUPERPROX(R) Model SM300 Series detects all materials at distances from as close as 0.25 in. to as far as 2.00 in. from sensor face. At such distances, sensor is safely out of harm's way. It detects objects as small as 0.098 in. dia rod or 0.039 in. wide flat bar. Operating on 12 to 24 Vdc, sensor is equipped with both sinking (NPN) and sourcing (PNP) outputs.
---
Original Press Release:

12 MM Prox Senses Up To 50.8 MM (2.00")


DAYTON, Ohio (February 18, 2002) The SUPERPROX(R) Model SM300 Series is the world's first low cost, extended range ultrasonic proximity sensor to offer the combination of a miniature 12 mm housing and reliable detection of all materials at distances 6.35 mm (0.25") to as far as 50.8 mm (2.00") from the sensor face. This is up to 6 times farther than many 30 mm diameter prox sensors. At these distances, the SM300 is safely out of harm's way, thus saving the cost of periodically replacing a damaged sensor. Whereas, many metal inductive prox sensors are rated at operating distances less than 9 mm (0.35") which requires the sensor to almost touch the object being detected.

In contrast with other proximity sensing technologies, the "install-it-and-forget-it", ultrasonic prox sensor requires no adjustments to compensate for the different materials being detected. No adjustments are required for colors, changing colors, light conditions and distance to the object. At a distance of 38.1 mm (1.50"), the SM300 detects objects as small as a 2.5 mm (0.098") diameter rod or a 1.0 mm (0.039") wide flat bar. An available fast response time of 2.0 ms ensures reliable detection of these objects moving past the sensor at the rate of 2000 per minute. Today, the SM300 is successfully solving applications such as container detection of multi-colored beverage containers, metal material detection of conveyor clutch plates and web break detection of clear, plastic material.

The tiny, threaded, 12 mm diameter housing, 52.6 mm (2 07") long in the cable version, allows the SM300 to be embedded in a machine where larger, longer-range proximity sensors may not fit. The epoxy face of the SM300 sensor is unaffected by dirt, water, sawdust, oil, film and other contaminants...problems that often impede the operation of other types of proximity sensors. The sensor is also unaffected by magnetic fields and transient voltage. With protection ratings of NEMA 4X and IP67, the CE-certified SM300 sensor resists most acids and bases and is compatible with many chemicals, cleaning solutions and chemical-based products encountered in harsh environments.

Operating on 12 to 24 VDC, the new ultrasonic prox sensor is equipped with both sinking (NPN) and sourcing (PNP) outputs.


More from Electronic Components & Devices