Proximity Sensor detects at long range.
Press Release Summary: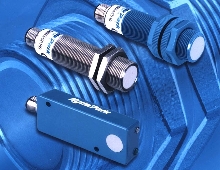 Ultrasonic 18mm Superprox(R) Model SM600 Series works at distances up to 10 in. from object. It has deadband of 0.75 in. and can be configured for specific sensing range or fixed sensing window as narrow as 1/8 in. Sensor detects objects as small as 0.06 in. dia at distance of 2.5 in., in all colors and materials, transparent or opaque, liquid or solid. It also detects objects through small openings and parts moving back-to-back at speeds of 2,000 per min.
---
Original Press Release:
18 MM Prox Senses Up To 254 MM (10")

DAYTON, Ohio (February 4, 2002) The SUPERPROX(R) Model SM600 Series of ultrasonic proximity sensors offers long-range sensing capabilities up to 254 mm (10"). These sensors also offer deadbands as short as 19 mm (0.75") with the mounting convenience of a small, 18 mm barrel or flat-profile package. Unlike inductive prox sensors which must almost touch the object, these ultrasonic units can be backed off from the object being detected. This places the sensor out of harm's way, but close enough to provide reliable sensing in many harsh environments. Fully tamperproof, these sensors are configured at the factory for a specific sensing range as well as a fixed sensing "window" as narrow as 3.2 mm (1/8").

The small, noncontact sensors which carry the CE mark, detect objects of all colors and materials as small as 1.6 mm (0.06") rod diameter at a distance of 63.5 mm (2.5"), transparent or opaque, liquid or solid. They detect objects through small openings as well as parts moving back-to-back at speeds of 2000+ per minute. Applications include those where opacity, color and height vary, and wherever there is a need for upgrading a metal-prox function.

Available in an 18 mm threaded ULTEM(R) blue plastic barrel, 18 mm threaded SS303 stainless steel barrel and ULTEM(R) blue plastic flat-profile housing, the sensors are easily installed in difficult-to-mount areas. They are epoxy encapsulated to resist shock and vibration as well as dusty, noisy, 100%-humidity, high-pressure washdown environments. With protection ratings of IP67 and NEMA 4X, the sensors resist most acids and bases including most food products. The transducer face is made of silicone rubber.

Operating on 12 to 24 VDC, the 500 KHz sensors are equipped with sinking type (NPN) and sourcing type (PNP) outputs.

DeviceNet communications capability is available in the flat-profile models. This communications capability decreases downtime and costs for installation while providing quick, accurate device-level diagnostics.


More from Test & Measurement