Proximity Sensor, Antenna Module enhances computer performance.
Press Release Summary: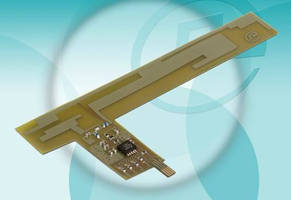 Promoting performance and design flexibility for tablets, laptops, and notebook computers, ProxAnt TL 1.0 consists of 7-band main antenna, proximity sensor chip, and all necessary components on one flexible circuit board. Sensor, without requiring physical contact, recognizes when it is close to user and signals host processor to reduce transmission power to antenna. Also, sensor recognizes movement to avoid false trigger. Module supports WiFi WLAN 802.11n, ac standards, and all LTE bands.
---
Original Press Release:

Pulse Electronics' ProxAnt TL 1.0 Package Combines a Proximity Sensor with an Antenna to Optimize Both Functions



ProxAnt TL 1.0 enables design flexibility, optimized performance, and space savings in tablets, laptops, and notebook computers



San Diego, Calif. – Pulse Electronics Corporation introduces an all-in-one combination antenna and proximity sensor package to optimize the characteristics of both functions, thus enabling better device performance and increased design flexibility for tablets, laptops, and notebook computers. The ProxAnt TL 1.0 is a seven band main antenna, a proximity sensor chip, and all needed components included on the same flexible circuit board. Without requiring physical contact, the sensor recognizes when it is close to the user and sends a signal to the host processor to reduce the transmission power to the antenna, thus lowering SAR. The sensor also recognizes movement to avoid a false trigger.



Dimensions for the antenna carrier (X x Y x Z) are 60 x 11.2 x 4.2mm. The proximity sensor footprint dimension (X x Y) is 13 x 8.8mm. The proximity sensor area extends 6mm from the antenna carrier in the Y-dimension and occupies the same volume as the antenna to optimize space utilization in a compact module. During product development design changes are flexible and easier because only the ProxAnt package needs optimization, and not the main PCB.



"The ProxAnt optimizes the antenna and proximity function as one entity, instead of separately. This integration minimizes the combined size and simplifies logistics to give the best possible antenna performance," explained Jon Yu, GM for Pulse Electronics Wireless Consumer Business Unit.



Pulse Electronics' ProxAnt TL 1.0 supports WiFi WLAN 802.11n, ac standards, all LTE bands, and is SAR compliant. For more information visit the website at http://www.pulseelectronics.com, or contact Pulse Electronics at Mtimosaari@pulseelectronics.com.



About Pulse Electronics

Pulse Electronics is a leading provider of electronic components that help customers build the next great product by providing the needed technical solutions. Pulse Electronics, including the Larsen brand of antennas, has a long operating history of innovation in antennas, magnetics and connectors, as well as the ability to ramp quickly into high-quality, high-volume production. The Company serves the wireless and wireline communications, power management, military/aerospace, and automotive industries. Pulse Electronics is a participating member of the IEEE, SFF, OIF, HDBaseT Alliance, CommNexus, NFC Forum, MoCA, and IWPC. Visit the Pulse Electronics website at www.pulseelectronics.com.



Copyright ©2015 Pulse Electronics Corporation. All rights reserved. All brand names and trademarks are properties of their respective holders.



Pulse Electronics

Maritta Timosaari

Sales & Marketing Director

Pulse Electronics Finland Oy

Automaatiotie 1, 90460 Oulu Finland

Phone: +358 40 502 9529

Email: mtimosaari@pulseelectronics.com

More from Material Processing