ProX SLS 500 3D Printer features automated material handling module.
Press Release Summary: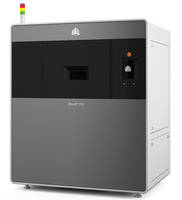 Producing very smooth surfaces with high print resolution on thermoplastic parts at fast speeds, ProX SLS 500 Selective Laser Sintering printer can be ideally used in aerospace, automotive and device cases. Product works with DuraForm ProX PA, DuraForm ProX GF and DuraForm ProX HST Composite materials that produce 80% material usability and offers highest build envelope capacity of 15 in. x 13 in. x 18 in.
---
Original Press Release:
Methods 3D Introduces 3D Systems' Prox® Sls 500 Production Ready 3D Printer
New Printer Delivers High Resolution, Smooth Surface Finishes and Tough, Durable Plastic Parts.
Methods 3D Inc., a subsidiary of Methods Machine Tools Inc. featuring innovative industrial production grade 3D printing solutions, has introduced the 3D Systems' ProX® SLS 500 Selective Laser Sintering production 3D printer featuring fast speeds, high print resolution and an extensive range of engineered composite materials. The ProX SLS 500 delivers superior parts with high precision, durability and quality, all in a compact production-grade system.
Created for the manufacturing floor, the ProX SLS 500 is the newest generation of SLS printers that redefines production capabilities with repeatable results. This printer is designed to produce exceptionally smooth surfaces and high resolution thermoplastic parts. Ready-to-use functional parts and complete assemblies are ideal for aerospace, automotive, patient specific medical devices, fashion accessories and mobile device use cases.
The ProX SLS 500 was developed in tandem with the DuraForm® ProX materials line to produce smoother wall surfaces, high print resolution and edge definition, generating injection molding-like part quality that surpasses existing alternatives.
The integration of the ProX SLS 500 and DuraForm ProX material yields 80 percent material reusability, the most economical material utilization available to date. Three DuraForm ProX materials used with the ProX SLS 500 include:
DuraForm ProX PA - an extra strong thermoplastic with superior mechanical properties and the finest surface quality. Excellent for low-temperature tooling, surgical tooling and saw guides, component housings and manifolds.
DuraForm ProX GF - Glass-filled material offering best-in-class rigidity and stiffness with amazing tensile, flexural, and impact strength with advanced thermal resistance. This material is ideal for jigs, fixtures, and tooling applications where demanding performance is required at elevated temperatures.
DuraForm ProX HST Composite - Mineral-filled material offering the highest available temperature resistant SLS material with a high strength-to-weight ratio. HST is excellent for lightweight, rigid, load bearing parts.
The ProX SLS 500 offers maximum build envelope capacity (X-Y-Z) of 15" (381 mm) x 13" (330 mm) x 18" (460 mm) and is equipped with 3D Systems' latest print driver, automated part nesting on the fly and an optional, automated material handling module that streamlines production and recycling of materials for an optimal product every time.
"Users can manufacture strong end use parts and functional prototypes faster with the ProX SLS 500. Manufactured parts from the ProX SLS 500 show outstanding resolution, surface finish and edge definition," said Benjamin Fisk, General Manager, Methods 3D. Inc."The ProX SLS 500 lowers your cost of ownership with remarkably high throughput, material efficiency and process consistency." Methods 3D has the ProX SLS 500 installed, and applications engineers are ready to work with customers to implement this technology.
In 2015, Methods Machine Tools announced their partner agreement with 3D Systems, a provider of the most advanced and comprehensive 3D digital design and fabrication solutions available today, including 3D printers, print materials and cloud-sourced custom parts. Through this partnership, Methods 3D, Inc. was created.
Methods 3D, Inc. is comprised of a dedicated team of industry experienced, highly-skilled technical sales and applications engineers fully integrated with, and leveraging, the extensive machining and manufacturing experience of Methods Machine Tools, Inc.
This partnership enhances Methods' portfolio of leading-edge precision machine tools and solutions for traditional manufacturing with advanced 3D printing solutions, enabling their customers to enter new markets, expand their manufacturing capabilities, and revolutionize manufacturing with 3D printing. Methods 3D has added seven new additive manufacturing labs, strategically located at each of Methods Machine Tools' technology centers including Sudbury, MA (Boston) headquarters; Detroit, MI; Charlotte, NC; Chicago, IL; Phoenix, AZ; San Francisco, CA; and Los Angeles, CA.
Methods Machine Tools, Inc., in operation for nearly 60 years, is a leading supplier of precision machine tools, 3D printing solutions, automation and accessories, providing extensive applications engineering support, installation, parts, service and training through a network of large state-of-the-art technology centers and dealers throughout North America.  For more information, please contact Methods 3D at 65 Union Avenue, Sudbury, MA 01776, TEL: (978) 443-5388, FAX: (978) 440-9405 or visit their website at www.Methods3d.com.
Company Contact:  
Mr. Jamie Hanson
Methods 3D, Inc.
978-443-5388
More from Thermal & Heating Equipment