Prototyping System models polycarbonate material.
Press Release Summary: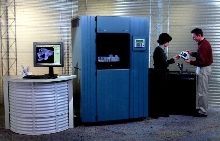 FDM Vantage(TM) comes in 3 variations. Vantage S offers higher speed than base model, depending on material type, layer thickness, model geometry, model size, and support style. In addition to speed increase, Vantage SE has expanded build envelope with 150% more volume for bigger prototypes. It also has expanded material bay with housings for second model-material canister and second support-material canister.
---
Original Press Release:

Stratsys Introduces Rapid Prototyping "Triplets" - Three Variation on the FDM Vantage


Minneapolis, March 10 - (NASDAQ: SSYS) Rapid prototyping system maker, Stratasys, introduced what it is calling the Triplets - three variations of its FDM Vantage(TM) rapid prototyping system. The company says that the Triplets offer design engineers three
"personalities" in an FDM Vantage, with distinct choices in performance and price.

Prices range from $99,000 for the base model Vantage to $195,000 depending on the model and configuration.

"For the first time - a design engineer can get into modeling with polycarbonate for under $100,000" says Stratasys CEO Scott Crump. "That's impressive, since PC is one of the toughest modeling plastics available, and it's used in so many manufacturers' end products. This strength also allows rapid manufacturing of end products: either in short production runs or
custom parts."

A step up from the base-model is the Vantage S, which stands for speed. On average, the S model is over 50 percent faster than the base Vantage. The speed increase can range as high as 125 percent faster, but the exact speed improvement depends on factors such as material type, layer thickness, model geometry, model size, and support style. Not every combination of factors
will result in significant speed improvement.

The fully loaded Triplet is the Vantage SE, which stands for speed + expanded envelope. In addition to the speed increase, the SE has an expanded build envelope (or build chamber) with
150 percent more volume, allowing bigger prototypes. It also features an expanded material bay, with housings for a second model-material canister and a second support-material canister. This allows users to leave the machine unattended for longer time periods.

"As users' requirements grow, their machine can grow with them," says product manager Patrick Robb. "The Triplets offer more options for growth than were previously available. Users
can start with a more affordable Triplet and upgrade as they need."

The Triplets and Triplet upgrade packages are targeted to ship in May. Existing FDM Vantage models can be upgraded to the S or SE. For full details and pricing, readers should contact their sales representative.

Stratasys, Inc. will be exhibiting at the following March trade shows:

o Mar. 8 - 11 SAE World Conference, Detroit. Cobo Hall
o Mar. 12 - 15 Linkage, Hong Kong Exhibition Center (at the stand of reseller - Polywell)
o Mar. 18 - 21 WESTEC Los Angeles Convention Center

The FDM Vantage Triplets are built on the Stratasys T-Class platform, which models with high-temperature, high-performance engineering thermoplastic. Like all FDM systems, the
Vantage Triplets require no special facilities or venting and involve no nuisance, dangerous, hazardous materials or by-products. Because Stratasys FDM rapid prototyping systems use
popular thermoplastics such as ABS, PC, and sulfones, they are becoming recognized for their ability to rapid manufacture end products, both for short production runs and custom products.

Stratasys Inc, Minneapolis, manufactured 31% of all rapid prototyping systems installed worldwide in 2002, the highest percentage of any manufacturer, according to Wohlers Report 2003. The company patented the rapid prototyping process known as fused deposition modeling (FDM®). The process creates solid
models directly from 3D CAD files using ABS plastic, polycarbonate, PPSF or other materials. Stratasys manufactures rapid prototyping systems for OEMs such as aerospace, automotive, defense, consumer, and medical product makers.

FDM Vantage is a trademark, and FDM and Stratasys are registered trademarks, of Stratasys, Inc.

More from Services