Prototyping System creates custom packaging prototypes.
Press Release Summary: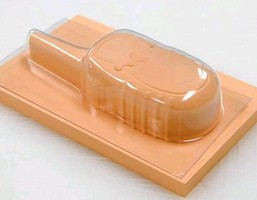 Packaging Prototyping System combines LPX-1000 3D laser scanner, MDX-40 3D milling machine, SOLJET(TM) PRO II V SC-545EX printer/cutter, and vacuum forming equipment. Offering resolution of 0.0039 in., Model LPX-1000 scans objects up to 5 in. dia x 8 in. high. Model MDX-40 features 15,000 rpm spindle and offers work volume of 12 x 12 x 4.12 in. Fourth rotary axis is provided for unattended 2- and 4-sided milling. Printer/cutter delivers max print speed of 315 sq ft/hr at 450 x 360 dpi.
---
Original Press Release:


Roland Announces New Packaging Prototyping System




Chicago, Illinois, September 9, 2005 - Combining technologies from across the company's Color Products and Advanced Solutions Divisions, Roland DGA Corp. has introduced the Packaging Prototyping System, an efficient in-house solution for producing professional packaging prototypes in less than one day.

On display at this week's Print '05 Conference (Roland exhibit, Booth #7943), the Packaging Prototyping System incorporates Roland's advanced print/cut and 3D scanning and milling technologies into a complete solution for creating precision, custom packaging prototypes. The Packaging Prototyping System is targeted for printers, product designers, graphic designers and other professionals involved in the creation of custom product packaging.

"The Packaging Prototyping System sets a new standard for efficiency and cost effectiveness for the product packaging industry," said Barry Johnston, color products division manager, Roland DGA Corp. "As an in-house solution, the Packaging Prototyping System allows professionals to generate precision packaging prototypes quickly, and to review and refine their designs easily - without the expense and added time involved in outsourcing."

The Packaging Prototyping System features the following equipment:

- Roland LPX-1200 3D laser scanner
- 0.0039" scanning resolution
- Scans objects up to 5" in diameter and 8" high
- Includes powerful reverse engineering software
- Compatible with all 3D CAD software

- Roland MDX-40 3D milling machine
- Subtractive rapid prototyping technology
- Mills 12" x 12" x 4.12" work volume
- Fourth rotary axis for unattended two- and four-sided milling
- Bundled 4-axis CAM software
- High-speed 15,000 rpm spindle

- Roland SOLJET(TM) PRO II V SC-545EX 54"-wide integrated printer/cutter
- Featuring new ECO-SOL(TM) MAX ink
- Precision printing and contour cutting
- Maximum print speed of 315 sqft./hr. at 450 x 360 dpi
- Up to 1440 x 1440 dpi resolution
- Prints on uncoated and coated media
- Variable droplet technology
- No special ventilation or environmental equipment
- Includes VersaWorks(TM) RIP software

- Standard vacuum forming equipment

The production process is as follows:

Produce Blister Packaging
Using the LPX-1200 laser scanner with included software, capture the 3D surfaces of the product. Mill the vacuum forming mold using the MDX-40 3D Milling Machine and included easy-to-use CAM software. Then position the mold into the vacuum forming machine for quick production of the vacuum formed blister packaging.

Create Custom Graphics
Design the packaging graphics using standard graphic design software, adding a vector cut line for each contour cut required. Import the file into VersaWorks. Using VersaWorks, send the file to the SOLJET PRO II V SC-545EX integrated printer/cutter. The SC-545EX quickly and automatically completes both the printing and contour cutting processes required for a custom packaging prototype.

Assemble Packaging Prototype
Manually assemble the product into the packaging materials for a finished, professional packaging prototype.

All Roland Packaging Prototyping System components are available through the company's authorized reseller channel. Standard vacuum forming equipment can be purchased separately.

Roland Advanced Solutions Division
Roland ASD develops advanced solutions for the sign making, engraving, jewelry design and CAD/CAM industries. Major products include CX series vinyl cutters, EGX series engravers, MDX series milling machines, LPX series 3D laser scanners, and the MPX-60 photo impact printer. The strategic business unit is a division of Roland DGA Corporation - an industry leader in wide-format printing and integrated print/cut technology. Roland ASD serves customers throughout North and South America with cutting-edge technologies and skilled dealers. For more information, call (888) 273-8895 or visit the Web site at www.rolandasd.com.

Roland DGA Corporation
Roland DGA Corporation and affiliated companies are pioneers in the development of innovative digital technology for creative professionals. From its inception as part of world-renowned Roland Music, Roland DGA Corp. has introduced an award-winning product line that continues to set new standards for precision, reliability and performance. Professionals worldwide rely on Roland equipment and personnel everyday in the sign, graphic arts, fine art, photography, engraving and 3D modeling industries.

Headquartered in Irvine, California, Roland DGA Corp. serves as the U.S.-based marketing, distribution and sales arm of Roland DG Corporation of Hamamatsu, Japan. Affiliated companies include Roland US and Roland Audio in Los Angeles, CA; Rodgers Instrument Corporation of Hillsboro, OR; and Edirol Corporation of Seattle, WA. Roland DG Corporation is listed on the Tokyo Stock Exchange.

Roland DGA is ISO 9001:2000 certified, and Roland DG is ISO-9001:2000 and 14001 certified. Roland's Color Products Division markets the company's advanced inkjet technologies in North and South America (except Brazil) through its Authorized Resellers. Major products include the SOLJET, VersaCAMM® and Hi-Fi JET(TM) Pro lines of inkjet printers and printer/cutters. Roland's newly-formed Advanced Solutions Division is responsible for marketing the company's complete line of vinyl cutters, engravers, 3D scanning and milling devices, and a photo impact printer. For more information, please call (800) 542-2307 or visit the Web site at www.rolanddga.com.


Related