Prototyping System builds preassembled moving parts.
Press Release Summary: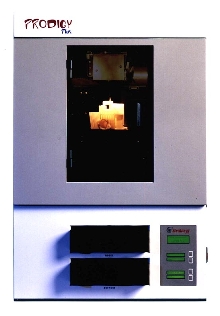 Prodigy Plus(TM) office-based prototyping system incorporates WaterWorks(TM) automated support-removal system, which uses water-based solution to dissolve model's temporary support structures, eliminating need for manual removal. Insight pre-processing software provides control over workflow and model building. It reports system status, job-build status, and build log, which includes material used, material required, and material remaining.
---
Original Press Release:
Moving Parts Can Be Built Pre-Assembled By Automated Prototyping System

Popular Low-Priced Prototyping System now Offers High-End Features

MINNEAPOLIS, March 7 -Stratasys (NASDAQ: SSYS) today introduced the Prodigy Plus,(TM) an office-based prototyping system that incorporates the automated support-removal system called WaterWorks.(TM) This system uses a water-based solution to simply
dissolve the model's temporary support structures, which eliminates the need for manual removal. Besides automating the process, it lets users build models with complex geometry,
smaller features, and finer detail.

With WaterWorks, users can make models with moving parts that are built pre-assembled. It allows the creation of intricate parts that are impossible to build otherwise. The system is based on the platform of the company's successful Prodigy system, introduced in 2000.

Besides the soluble support removal system, Prodigy Plus is outfitted with Insight preprocessing software developed for Stratasys' higher-end systems. The proprietary software offers users a high degree of control over workflow and model building. For efficiency, the software lets users build multiple parts simultaneously. At the user's workstation, Insight reports system status, job-build status, and a build log, which includes material used, material required, and material remaining. When a model is complete, Insight notifies the user by e-mail or pager.

"For too long, the features of higher-end RP systems have been out-of-reach for many organizations," says product manager Mary Stanley. "It's part of our mission here at Stratasys to lower the cost of modeling and prototyping to make it cost-effective for a broader market. Offering hands-free support removal in a lower price system is proof we're on track."

Prodigy Plus is quiet, safe, and compact. Like all Stratasys equipment, it requires no special facilities or venting and involves no hazardous materials or byproducts. It has a build
envelope of 8 x 8 x 12 in. (203 x 203 x 305 mm) and measures 27 x 34 x 41 in. (686 x 864 x 1041 mm). The system has three options for surface-finish resolution: Fine, Standard, or Draft.
Its software operates on the Windows NT or 2000 platforms. Stratasys systems typically represent the lowest total cost of ownership among the major rapid prototyping suppliers.

Stratasys, Inc., Minneapolis, is the second largest manufacturer of rapid prototyping systems. The company's patented fused deposition modeling (FDM®) process creates solid models directly from 3D CAD files using polycarbonate, ABS plastic, wax, or other
materials. Stratasys provides rapid prototyping systems for OEMs such as aerospace, automotive, military, consumer, and medical product makers. According to Wohlers Report 2000 on the state of the rapid prototyping industry, Stratasys has installed more
rapid prototyping systems over the last 5 years than any other manufacturer.

Attention Editors: The contact at the top of this release is an editorial contact only. If you wish to publish reader-
contact information, please use: Toni Brown, info@stratasys.com, ph: 952.937.3000, toll-free: 1.888.480.3548, www.stratasys.com.

Windows NT and 2000 are registered trademarks of Microsoft Corp.
Prodigy, Prodigy Plus, WaterWorks, and Insight are trademarks of Stratasys, Inc.
More from Agricultural & Farming Products