Prototyping 3D Printer fits on most desktops.
Press Release Summary: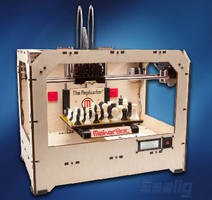 Built with linear ball bearings and precision-ground 8 mm shafts, Replicator(TM) offers 1- or 2-color printing of solid objects and fabricates designs up to 8.9 x 5.7 x 5.9 in. System features 4 x 20 character LCD panel and multi-directional control pad. Using SD Card slot or USB connection, model designs can be loaded and built directly from control pad commands. System builds parts at speeds of 40 mm/s, with positioning precision of 2.5 microns in Z axis and 11 microns in XY axes.
---
Original Press Release:

Saelig Debuts New Affordable Prototyping 3D Printer



Pittsford, NY: Saelig Company, Inc. (www.saelig.com) announces the availability of the Replicator(TM), an affordable, personal 3D printer offering 1- or 2-color "printing" of solid objects. The Replicator runs open-source 3D-printing code and is compact enough to fit on a desktop. Ready within minutes to start printing right out of the box, The Replicator fabricator turns raw feedstock, such ABS or PLA, into instant prototypes as large as a loaf of bread.

The Replicator is a precision-made parts fabricator, built with linear ball bearings and precision-ground 8 mm shafts, ideal for personalized manufacturing or prototyping, providing a new way to fabricate designs and variants quickly as large as 225 x145 x150 mm (8.9" x 5.7" x 5.9"). The Replicator is available with single or dual extruders, facilitating simultaneous two-color printing.

The Replicator features a 4x20 character LCD panel and multi-directional control pad. The LCD screen provides build data as well as monitoring information, and full machine control is possible without the use of a computer. Using an SD Card slot or USB connection, model designs can be loaded and built directly from control pad commands. Professional engineers can now quickly fabricate solid objects using tools like AutoCAD and Solidworks producing STL or gcode files. ReplicatorG software provided (Linux, Windows, and OSX compatible) enables rapid prototype production. Layer thickness may be selected from 0.2-0.3mm with the stock 0.4 mm nozzle, and parts are built at a speed of 40 mm/s, with positioning precision of 2.5 micron (Z axis) and 11 micron (XY axes).

Sized for almost any desktop (320 x 467 x 381 mm; 12.6" x 18.4" x 15") The Replicator weighs 26/29lbs (single/dual). Made by Makerbot Industries, The Replicator is available now at $1699 for a single extruder and $1999 for a dual extruder, from Saelig Company, Inc. their USA technical distributor. For detailed specifications, free technical assistance, or additional information, please contact Saelig 1-888-7SAELIG, via email: info@saelig.com, or visit www.saelig.com.

About Saelig Company, Inc. Founded in 1988 in Rochester, New York, Saelig is a North American distributor with a growing reputation for finding and sourcing unique, easy-to-use control and instrumentation products and related active components, for use in a variety of industries, including: automation, automotive, aerospace & defense, computers, controls, embedded systems, medical & pharmaceutical manufacturing, motion control, R&D, wireless, etc. Products lines are continuously added from sources across the globe, and are offered at highly competitive prices, accompanied by full in-house technical support, exceptional customer service, and fast delivery. For full details of available product lines, please visit www.saelig.com.

Contact Information
email: info@saelig.com
phone / fax: 585-385-1750 / 585-385-1768
web: www.saelig.com

More from Laboratory and Research Supplies and Equipment