Protocol Test Card is approved for PCIe® 2.0 testing.
Press Release Summary: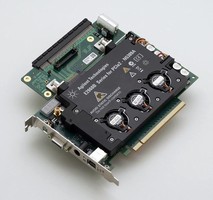 Protocol Test Card (PTC) 2.0 allows engineers, with single mouse click, to run all tests specified by PCI-SIG and view detailed results through intuitive HTML report. It includes test package suite of 180 additional tests comprised of 94 transaction-layer tests, 31 link-layer tests, 57 configuration-space tests, and 1 electrical-layer test. HTML report displays failed tests in red, warnings in yellow, and passed tests in green.
---
Original Press Release:

Agilent Protocol Test Card II to Accelerate Industry Deployment of PCI Express 2.0



SANTA CLARA, Calif., March 24, 2008

Agilent Technologies Inc. (NYSE: A) today announced that its Protocol Test Card (PTC) 2.0 has been approved by the PCI-SIG® (PCI Special Interest Group) for PCI Express® (PCIe®) 2.0 protocol testing. This approval means designers can use Agilent's PTC 2.0 to test and validate their designs with the confidence that the PCIe specifications for link layer, transaction layer and BIOS are being met.

"We are pleased to see Agilent's continued investment in PCI Express compliance testing by building PTC 2.0," said Al Yanes, PCI-SIG president. "Testing tools will help expedite the industry adoption of PCIe 2.0 and ensure that developers can quickly identify and fix areas of compliance deficiency."

"As the existing provider of gold standard PTC 1.0 for PCIe 1.0, Agilent is delighted to have been selected once again for PCIe 2.0 compliance testing," said Siegfried Gross, vice president and general manager of Agilent's Digital Test Division. "We have always been a strong supporter of the efforts of the PCI-SIG, to define, create and promote the PCI Express technology into the marketplace. Agilent believes having a tool to validate compliance is key to ensuring interoperability and adoption of the technology. To support this goal, we will continue to provide advanced tools and capabilities to support the PCI-SIG and future PCI Express standards."

The PTC 2.0 is a user-friendly concept: With a single mouse click, engineers can run all tests specified by the PCI-SIG and view detailed results through an intuitive HTML report. The PTC 2.0 was designed with investment protection in mind. A simple software upgrade enables the compliance-assured test package to run more than 180 additional recommended tests, or turns the PTC 2.0 into a fully functional exerciser and Link Training and Status State Machine (LTSSM) tester.

The compliance assured test package is a suite of 180 additional tests comprised of 94 transaction-layer tests, 31 link-layer tests, 57 configuration-space tests and one electrical-layer test. The intuitive HTML report displays failed tests in red, warnings in yellow and passed tests in green.

"We are excited that Agilent is building on the success of their Protocol Test Card for PCIe 1.0 by providing a PTC card that supports the PCIe 2.0 technology specification," said Don Anderson, vice president, MindShare Inc. "We have seen significant demand shift from our PCIe 1.0 class to our PCIe 2.0 technical class. Designs based on PCIe 2.0 are becoming a reality. Agilent's PTC, which uses the same hardware as the PCIe exerciser, will enable R&D engineers to verify their designs quickly. Agilent's PTC 2.0 is MindShare's chosen tool for demonstrating PCIe protocol in our PCIe public-enrollment seminars scheduled throughout the year."

U.S. Pricing and Availability

The Agilent E2969B PTC II card for PCIe 2.0 is available now. Pricing starts at $9,150. More product information is available at www.agilent.com/find/PTC2. Images are available at www.agilent.com/find/PTC_images.
About Agilent Technologies

Agilent Technologies Inc. (NYSE: A) is the world's premier measurement company and a technology leader in communications, electronics, life sciences and chemical analysis. The company's 19,000 employees serve customers in more than 110 countries. Agilent had net revenues of $5.4 billion in fiscal 2007. Information about Agilent is available on the Web at www.agilent.com.

PCI-SIG, PCI Express and PCIe are trademarks or registered trademarks of PCI-SIG.

Contact:

Janet Smith
+1 970 679 5397
janet_smith@agilent.com

More from Construction Equipment and Supplies