Protocol Engine adds protocol processing to telecom systems.
Press Release Summary: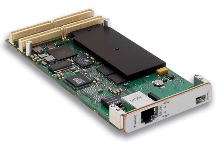 Based on PowerQUICC III MPC8560 communication controller, Octal E1/T1 Processor PMC protocol engine, Model Pm8560, is equipped with 512 Mbytes of SDRAM, 32 Mbytes of flash memory, and 10/100/1,000 Ethernet port. Unit is optimized for protocol processing applications such as SS7/SIGTRAN signaling and ATM AAL-5. Combining PowerPC Book E e500 core with multi-channel CPM, MPC8560 operates at 800 MHz and delivers peak performance of up to 1,850 MIPS.
---
Original Press Release:

Artesyn Announces Octal E1/T1 ProcessorPMC Protocol Engine Based On PowerQUICC III MPC8560 Communications Processor


Madison, WI. August 3, 2005. Artesyn Communication Products, a division of Artesyn Technologies (NASDAQ: ATSN), and a leading supplier of WAN infrastructure products, today announced the Pm8560, a new octal E1/T1 ProcessorPMC protocol engine based on the PowerQUICC III MPC8560 communication controller. Equipped with 512 Mbytes of SDRAM, 32 Mbytes of flash memory, and a 10/100/1000 Ethernet port, the new module is optimized for protocol processing applications such as SS7/SIGTRAN signaling and ATM AAL-5.

The Pm8560 gives telecom OEMs an easy way to add protocol processing and signaling capability to telecom systems equipped with PMC or PTMC (PCI Telephony Mezzanine Card) expansion slots, including Artesyn's own Katana AdvancedTCA and PICMG 2.16 (Compact PCI Packet Switching Backplane) blades. The Pm8560's high performance and versatile protocol support makes it ideal for a wide range of applications requiring multiple E1/T1/J1 interfaces for protocol and packet processing, including VoIP gateways, signaling gateways, base station controllers, radio network controllers and base transceiver stations.

"The MPC8560's high-performance PowerPC core and versatile communications processor make it an excellent protocol engine," said Todd Wynia, vice president of marketing at Artesyn. "The Pm8560's integrated MPC8560, multi-channel T1/E1 interface, Gigabit Ethernet packet interface, and convenient PrPMC form factor make it easy for telecom OEMs to take full advantage of the MPC8560 and add high-speed packet/protocol processing and signaling to a wide range of telecom systems."

Freescale's PowerQUICC III MPC8560 provides the compute and protocol engine for the Pm8560. Combining a PowerPC Book E e500 core with a multi-channel Communications Processor Module (CPM), the MPC8560 operates at 800 MHz, features a single-precision floating point unit with SIMD capability and delivers a peak performance of up to 1850 MIPS. The RISC-based CPM features three fast serial communications controllers (FCCs), two multichannel controllers (MCCs), four serial communications controllers (SCCs), one serial peripheral interface (SPI) and an I2C interface. The MPC8560 also includes a 64-bit PCI/X/PCI controller, RapidIO port, and a pair of 10/100/1000 Ethernet controllers.

The Pm8560's mezzanine interface is IEEE 1386.1 (PMC) compliant. It also includes a subset of PICMG 2.15 PTMC Configuration 2 features. The Pm8560's E1/T1 interfaces reside on a rear transition module installed on the baseboard. After processing the data and converting it to a packet format, the Pm8560 can send it back to the baseboard for additional processing or transmission over the backplane (i.e., PICMG 2.16 or AdvancedTCA). It can also transmit the data directly to a packet network via its 10/100/1000 Gigabit Ethernet port.

The Pm8560 complies with all major safety, EMC, and environmental standards, including IEC60950/EN60950, UL60950, CSA C22.2, Global IEC - CB Scheme Report IEC 60950), NEBS Telecordia GR-63, and GR1089 Level 3, FCC Part 15 (U.S. and Canada), and ETSI EN300386-V1.3.1.

Operating system support for the Pm8560 includes MontaVista Carrier Grade Linux CGE3.1. The Pm8560 sells in OEM quantity for $ 1,497 .

About Artesyn Technologies, Inc.
Artesyn Technologies, Inc., headquartered in Boca Raton, FL., is a world leader in the design, manufacture and sale of power conversion and single-board computing solutions for infrastructure applications in telecommunications and data-communications systems. Our products are used in middle to high-end servers, data storage devices, routers, hubs, high-speed modems, RF amplification systems, base station controllers and transceivers. The Company has a global sales reach with design and manufacturing facilities in Asia, Europe and North America. Artesyn is a public company whose common stock is traded on the Nasdaq stock market under the symbol ATSN. For more information, please visit the Company's web site at artesyn.com.

Company Contacts
Artesyn
Kim Anderberg
608-831-5500
kima@artesyncp.com

More from Cleaning Products & Equipment