Protocol Converter offers optional secure digital interface.
Press Release Summary: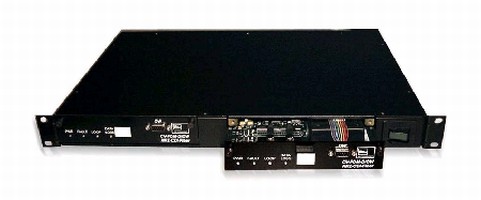 Available on CV-MCU protocol converter line, CV-FOM-D/OW Module passes Secure Digital Voice Order Wire traffic to and from cryptographic unit or Enhanced Tactical Satellite Signal Processor using standard fiber-optic cable link. It combines features of Conditioned Di-Phase Modems and Fiber Optic Modems, and offers conversion to and from Non-Return to Zero protocols. Module supports JTC3A-9109C tactical fiber interoperability at traffic rates up to 16.384 Mbps.
---
Original Press Release:

Ultra Electronics-DNE Technologies Announces New Secure Digital Orderwire Interface



Allows "Push-to-Talk" Feature to Operate over Standard Fiber Link

Wallingford, CT - Ultra Electronics-DNE Technologies, a provider of tactical voice and data communication solutions, announces the release of a new Secure Digital Voice Order Wire Interface option module for the CV-MCU product line. The new module, called the CV-FOM-D/OW, passes Secure Digital Voice Order Wire traffic to and from a cryptographic unit or an Enhanced Tactical Satellite Signal Processor (ETSSP) using a standard fiber-optic cable link. Combining this new feature with NRZ, CDI, and FOM conversions allows an orderwire device to be co-located with remote NRZ equipment. This feature, when used with an IP-based network manager, permits remote operation of a communications van or shelter. The push to talk (PTT) functionality of cryptographic units, such as a KY-57 or a KY-99A, is also supported. The new CV-FOM-D/OW module is the latest in a series available for the CV-MCU, and can be installed in any deployed CV-MCU to add orderwire functionality to any new or existing fiber link.

Like all CV-MCU option modules, DNE's CV-FOM-D/OW economically combines the features of both Conditioned Di-Phase Modems (CDIMs) and Fiber Optic Modems (FOMs), and also offers a conversion to and from Non-Return to Zero (NRZ) protocols. By allowing NRZ devices to be positioned at significant distances from the satellite terminal, the CV-MCU modules support both TRI-TAC digital trunk groups and new, emerging technologies while utilizing the reliability and economy of tactical fiber connections.

DNE's CV-MCU increases deployment flexibility and reduces the long-term cost of ownership through a unique design that allows a simple, inexpensive upgrade or system re-allocation of current assets without removing and recabling each installed chassis. Each lightweight, aluminum 1-U CV-MCU rack-mount chassis handles two independent circuit modules that can be configured for separate applications. Each individual circuit within the CV-MCU can be upgraded independently, allowing modules with distinct applications to reside in the same chassis. The circuit modules are also hot-swappable, further minimizing system down time. This modular feature provides an inexpensive and simple upgrade path to additional compatibilities while preserving interoperability with fielded protocol conversion units.

The CV-FOM-D/OW module supports JTC3A-9109C tactical fiber interoperability at traffic rates up to 16.384 Mbps, with singlemode and multimode fiber supported by a universal 9/50/62.5µm, 125µm @1310nm ST connectors. Optional TFOCA and TFOCA-II interface assemblies are also available. The CV-FOM-D/OW module is also compatible with earlier converters from DNE, including the CV-2048 and the CV-8448, at rates offered by both units.

About Ultra Electronics-DNE Technologies
For over fifty years, Ultra Electronics-DNE Technologies has provided communications devices to the US Department of Defense, Homeland Security and other government agencies. Ultra Electronics-DNE Technologies manufactures modern networking equipment that economizes bandwidth and extends the drive distances of tactical communications devices. This equipment is used throughout the US Department of Defense (DoD) and other government agencies to support the transition to IP networking, particularly in areas where bandwidth-intense network traffic is restricted by a single satellite or radio signal. DNE manufactures the AN/FCC-100, the TAC Multiservice Access Concentrator series, and a series of NRZ/CDI/FOM converters, including the VersaMux protocol converter/multiplexer. For more information, contact Ultra Electronics-DNE Technologies at 1-800-370-4485 or visit them on the web at www.ultra-dne.com.

Contact:
Margaret M. Cooley
Marketing Communications Manager
Ultra Electronics-DNE Technologies
50 Barnes Park North
Wallingford, CT (USA) 06492
(203) 265-7151 x116

More from Machinery & Machining Tools