Protocol Analyzers can debug UniPro/UFS traffic.
Press Release Summary: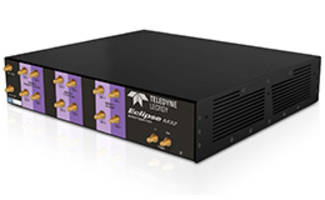 Used by design and test engineers working in high data rates and power management, Eclipse M32 Protocol Analyzers support MIPI®M-PHY v3.1 HS-G3, the UniPro v1.61 and UFS v2.1 standards. Using advanced software suite, product can automatically identify and evaluate millions of packets, transactions and protocol sequences. Product comes with MIPI®M-PHY interface.
---
Original Press Release:
Teledyne LeCroy Introduces MIPI® M-PHY UniPro/UFS Protocol Analyzer/Exerciser
Teledyne LeCroy, the worldwide leader in protocol test solutions, today introduced a next generation UniPro/UFS protocol analyzer and exerciser. The Eclipse M32 Analyzer/Exerciser is designed to assist design and test engineers working in the high data rates and aggressive power management of the UniPro and UFS specifications over the MIPI®M-PHY physical interface. The Eclipse M32 delivers in-depth testing and analysis, automated quality testing as well as compliance/conformance verification in one powerful package.
The Eclipse M32 fully supports the MIPI®M-PHY v3.1 HS-G3, the UniPro v1.61 and the UFS v2.1 specifications. System developers and designers looking toward a future migration to Gear 4 and concerned about investment protection will also enjoy the Eclipse M32's ability to be upgraded to the MIPI®M-PHY v4.1 HS-G4 as well as the UniPro v1.8 specifications when they become available.
The Eclipse M32 platform along with its UniPro M Series Protocol suite provide a robust system to capture and debug UniPro/UFS traffic. Acting as a standalone protocol analyzer or as a analyzer/exerciser, the Eclipse M32 offers a complete protocol solution from analysis and traffic generation, to conformance or compliance testing and automated stress testing.
In the Teledyne LeCroy UniPro M Series Protocol Suite, application standard protocol analysis views are augmented with an Events window showing detailed activity on the bus. The Events window provides a complete picture of all events while still allowing the user to drill down to the byte level. This unique and powerful display is time-aligned to display fillers, Prepare, Sync, Hibern8, Sleep, Stall and other M-PHY level packets. Through use of its advanced software suite the Eclipse M32 is able to automatically identify and evaluate millions of packets, transactions and complete protocol sequences for conformance to the specification. Complex transactions such as power mode changes and Link Startup Sequence events can be automatically analyzed many times, finding issues that even an expert engineer might miss. With the Conformance Test Suite (CTS) the Eclipse M32 exerciser provides conformance/compliance verification, as well as margin, corner case, and automated stress testing.
The Eclipse M32 is available for shipment by the end of Q2 2017. For pricing information, or to arrange a demonstration, contact your nearest Teledyne LeCroy Sales Representative.
About Teledyne LeCroy
Teledyne LeCroy is a leading manufacturer of advanced oscilloscopes, protocol analyzers, and other test instruments that verify performance, validate compliance, and debug complex electronic systems quickly and thoroughly. Since its founding in 1964, the Company has focused on incorporating powerful tools into innovative products that enhance "Time-to-Insight". Faster time to insight enables users to rapidly find and fix defects in complex electronic systems, dramatically improving time-to-market for a wide variety of applications and end markets. Teledyne LeCroy is based in Chestnut Ridge, N.Y. For more information, visit Teledyne LeCroy's website at teledynelecroy.com.
About the MIPI Alliance
The MIPI Alliance is a global, collaborative organization comprised of companies that span the mobile ecosystem and are committed to defining and promoting interface specifications for mobile devices. The MIPI® Alliance is a non-profit corporation that operates as an open membership organization. All companies in the mobile device industry are encouraged to join, including semiconductor companies, software vendors, IP providers, peripheral manufacturers, test labs and end product OEMs. Today, more than 250 member companies actively participate in the Alliance, developing interface specifications which drive consistency in processor and peripheral interfaces, promoting reuse and compatibility in mobile devices.
Media contact:
Bill Johnson,
Marketing Manager
(434) 951-0207
Customer contact:
Teledyne LeCroy
PSG Customer Care Center
(800) 909-7112
Website: http://www.teledynelecroy.com
More from Materials