Protocol Analyzer/Exerciser tests PCI Express 4.0 designs.
Press Release Summary: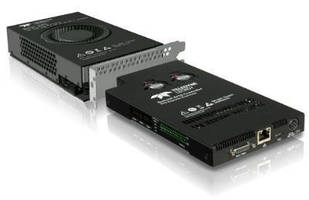 Providing 16 GT/s traffic generation on devices with link widths up to 16 lanes, Summit™ Z416 addresses needs of PCI Express developers. In addition to traffic generation, protocol analysis featuring CATC Trace™ and other traffic displays and data reports are available. Exerciser functions can be used for traffic generation and device/host emulation, while error injection functions enable developers to test error recovery routines important to interoperability of PCIe 4.0 products.
---
Original Press Release:

Teledyne LeCroy Announces Protocol Exerciser for PCI Express® 4.0 Technology



Traffic Generation and Analysis for PCIe® 4.0 at Data Rates up to 16 GT/s



SHANGHAI, – PCI-SIG DevCon -- Teledyne LeCroy, the worldwide leader in protocol test solutions, today announced its new PCI Express (PCIe) protocol exerciser/analyzer for testing PCI Express 4.0 designs and products. The Summit™ Z416 exerciser/analyzer addresses the needs of PCI Express developers by providing high performance 16 GT/s traffic generation on devices with link widths up to 16 lanes. In addition to traffic generation, protocol analysis featuring Teledyne LeCroy's industry-standard CATC Trace™ and other traffic displays and data reports are available. The Summit Z416 supports exerciser functions that can be used for traffic generation and device/host emulation, as well as providing the industry a platform for development of standardized compliance test suites.  Additionally, the Summit Z416 support error injection functions to enable developers to test error recovery routines important to reliable interoperability of PCIe 4.0 products.  Along with the Summit Z416 Exerciser/analyzer, a new PCIe 4.0 test platform, PCIe 4.0 verification load board (VLB) and PCIe 4.0 verification base board (VBB) will be released to form a complete suite of protocol test tools for all developers working on or interested in PCI Express 4.0 products.



"Designers implementing the PCIe 4.0 specification's fast 16 GT/s data rates in high-performance enterprise systems require a full-featured protocol test system," said Scott Knowlton, Sr. Product Marketing Manager, Synopsys. "The combination of Synopsys' DesignWare® IP for PCIe 4.0 and test systems like Teledyne LeCroy's Summit Z416 enable our mutual customers to design their SoCs more efficiently, analyze and test their silicon thoroughly and bring their solutions to the market quickly."



Protocol analyzers and exercisers are key tools to help driver and firmware developers understand serial data communication between their devices and systems. The Summit Z416 features a unified single application that incorporates traffic generation and protocol analysis. A protocol exerciser is an important part of protocol development and specification corner case testing. It provides realistic traffic to devices under test and can also emulate complex host- or device-side traffic while the protocol analyzer acquires, records, decodes, analyzes and displays complex high-speed PCI Express I/O streams.  Users will have access to analysis and reporting capabilities that are highly utilized in the PCIe industry.  When analyzers and exercisers are used together developers can create powerful script level traffic and monitor the results of all tests.



"Growing enterprises and data centers will need the higher I/O performance that PCIe 4.0 has to offer. Products that take advantage of high-performance computing, Web 2.0, cloud and data analytics applications will need this technology to be successful," said  Alon Webman, Vice President of Silicon Engineering,  Mellanox Technologies. "The effort and expertise is monumental to design and test products based on this new technology. Teledyne LeCroy's commitment to enabling the industry with PCI Express 4.0 protocol exercisers and analyzers will help provide early adopters the necessary tools they will need going forward."



The Summit Z416 will allow developers to work on bringing up LTSSM and dynamic equalization structures during the early power-on phase of development.  Features addressing this include providing bus traffic to emulate the beginning Polling and Detect states, through the equalization phases to the final link up at the L0 state and maintaining the L0 state between the host and device.  Automatic skip generation is provided and received packets will be ACKed. The exerciser will support lane reversal and control polarity and scrambling.  An important feature to note is that traffic emulation supports not only dynamic equalization but also Skip EQ training in order to handle full autonomous speed switch between all combinations of speeds. The exerciser also has the capability to perform error injection on either a packet or per lane basis.



Along with the Summit Z416 Teledyne LeCroy is also releasing a Gen4 Test Platform that is a two CEM-socket backplane capable of supporting 16 GT/s bus transactions for testing CEM form factor devices with the Gen4 test platform.  Two test fixtures are being made available to help with testing PCIe 4.0 devices: a PCI Express Verification Load Board (VLB) for testing PCI Express platforms, and the PCI Express Validation Base Board (VBB) for testing PCI Express Add-in Cards.  Each of these test tools will aid developers in electrical test, functional verification, interoperability and performance testing for PCIe 4.0 products.



"We are very pleased to announce our PCI Express 4.0 development tools. The Summit Z416, Test Platform, VLB, and VBB will be useful to early adopters of the PCIe 4.0 specification," said John Wiedemeier, Product Marketing Manager, Teledyne LeCroy's PCI Express Group.  "Companies who develop servers, networks, storage systems and solid state drives (SSDs) will find these tools essential to ensure design performance."



Teledyne LeCroy protocol analyzers and exercisers have been at the forefront of PCI Express development working closely with the computer industry over the last decade to provide the analysis features companies have needed for PCIe storage and IoT technology development.  All Teledyne LeCroy protocol analysis and test products feature a hierarchical display, real-time statistics, protocol traffic summaries, detailed error reports, powerful scripting, and the ability to create user-defined test reports, which allow developers to troubleshoot intricate problems and finish their projects on time. Users of Teledyne LeCroy systems appreciate the rich library of decodes and analysis capabilities that are available on all of Teledyne LeCroy's PCIe test tools.



"Teledyne LeCroy will continue to lead the industry in protocol test support for the PCI Express architecture.  The PCIe 4.0 specification is an important technology to which we committed our resources to enable us to deliver timely high quality development tools to the industry," said Joe Mendolia, Vice President of Marketing, Protocol Solutions Group, Teledyne LeCroy.  "Our goal is to provide development, debug and validation tools when our customers need them and enhance them according to our customers' needs and requirements moving forward."



Availability

The Summit Z416 PCIe 4.0 Protocol Exerciser/Analyzer is currently available to order. For additional information, contact Teledyne LeCroy at 1-800-5LeCroy (1-800-553-2769) or visit Teledyne LeCroy's web site at teledynelecroy.com.



About Teledyne LeCroy

Teledyne LeCroy is a leading manufacturer of advanced test instruments that measure, analyze, and verify complex electronic signals. The Company offers high-performance oscilloscopes and protocol test solutions used by electronic design engineers in a wide range of application and end markets. Teledyne LeCroy is based in Chestnut Ridge, NY.  For more information, visit Teledyne LeCroy's website at teledynelecroy.com.



© 2015 by Teledyne LeCroy. All rights reserved. Specifications are subject to change without notice.



PCI-SIG, PCI Express and PCIe are registered trademarks of PCI-SIG.  Summit and CATC Trace are trademarks of Teledyne LeCroy.



Media Contact:    

Peter Fletcher

TechniPubs                

(408) 373-5601



Technical Contact:

John Wiedemeier

Product Marketing Manager

(408) 486-7211



Customer Contact: 

Teledyne LeCroy PSG Customer Care Center  

(800) 553-2769



Website: teledynelecroy.com

More from Sensors, Monitors & Transducers