Protium S1 Prototyping Platform features 6X higher design capacity.
Press Release Summary: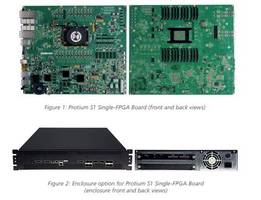 Using Palladium Z1 enterprise emulation, Protium S1 Prototyping Platform provides front-end congruency for easy adoption and fast bring-up. Enhancing memory backdoor access, force and release and runtime control, platform supports System Design Enablement strategy and uses Xilinx® Virtex™ UltraScale™ FPGA technology.
---
Original Press Release:
Cadence Launches Protium S1 FPGA-Based Prototyping Platform for Early Software Development
Highlights:
Delivers next-generation FPGA-based prototyping as part of the industry-leading Cadence Verification Suite
Reduces design bring-up time from months to weeks by an average of 80 percent
Provides front-end congruency with Palladium Z1 enterprise emulation platform for ease of adoption and fast bring-up
Offers 6X improvement in supported design size over previous generation
Cadence Design Systems, Inc. (NASDAQ: CDNS) today announced the new Protium™ S1 FPGA-Based Prototyping Platform, which incorporates innovative implementation algorithms to boost engineering productivity. The Protium S1 platform provides front-end congruency with the Cadence® Palladium® Z1 Enterprise Emulation Platform, thereby delivering 80 percent faster design bring-up on average when compared to typical FPGA prototyping approaches. Utilizing Xilinx® Virtex™ UltraScale™ FPGA technology, the new Cadence platform features 6X higher design capacity and an average 2X performance improvement over the previous generation platform. The Protium S1 platform has already been deployed by early adopters in the networking, consumer and storage markets. More information on the platform is available at www.cadence.com/go/protium-s1.
"The Cadence Protium S1 platform ensures scalability to hundreds of software developers at the earliest possible point during the development flow and allows developers to focus on design validation and software development rather than prototype bring-up," said Peter Ryser, senior director for System Software, Integration and Validation at Xilinx. "The common flow with the Cadence Palladium Z1 emulation platform enables a smooth transition from emulation to prototyping, which greatly improves productivity."
"As a leading supplier of Ethernet and InfiniBand intelligent interconnect solutions and servers, storage and hyper-converged infrastructure, the complexity of our designs is constantly increasing and requires rigorous verification," said Alon Webman, vice president of Silicon Engineering at Mellanox Technologies. "Cadence's Protium S1 platform provides world-leading congruency with their Palladium Z1 emulation platform, allowing us to optimize the balance between emulation and FPGA-based prototyping. We use the Protium S1 platform for hardware regressions and software development at much higher speed than emulation, which enables us to focus the Palladium Z1 platform on high-value use models in the hardware and software verification domain."
To increase designer productivity, the Protium S1 platform offers the following benefits:
Ultra-fast prototype bring-up: The platform's advanced memory modeling and implementation capabilities allow designers to reduce prototype bring-up from months to days, thus enabling them to start firmware development much earlier.
Ease of use and adoption: The platform shares a common compile flow with the Palladium Z1 platform, which enables up to 80 percent re-use of the existing verification environment and provides front-end congruency between the two platforms.
Innovative software debug capabilities: The platform offers firmware and software productivity-enhancing features including memory backdoor access, waveforms across partitions, force and release, and runtime clock control.
"The rising need for early software development with reduced overall project schedules has been the key driver for the delivery of more advanced emulation and FPGA-based prototyping platforms," said Dr. Anirudh Devgan, senior vice president and general manager of the Digital & Signoff Group and the System & Verification Group at Cadence. "The Protium S1 platform offers software development teams the required hardware and software components, a fully integrated implementation flow with fast bring-up and advanced debug capabilities so they can deliver the most compelling end products, months earlier."
The Protium S1 platform further extends the innovation within the Cadence Verification Suite and supports the company's System Design Enablement (SDE) strategy, which enables system and semiconductor companies to create complete, differentiated end products more efficiently. The Verification Suite is comprised of best-in-class core engines, verification fabric technologies and solutions that increase design quality and throughput, fulfilling verification requirements for a wide variety of applications and vertical segments.
In related news, Cadence also announced the delivery of another Verification Suite engine today, the Xcelium™ Parallel Simulator, the industry's first production-ready third-generation simulator. For more information on the Xcelium simulator, please visit www.cadence.com/go/xcelium.
About Cadence
Cadence enables electronic systems and semiconductor companies to create the innovative end products that are transforming the way people live, work and play. Cadence's software, hardware and semiconductor IP are used by customers to deliver products to market faster—from semiconductors to printed circuit boards to whole systems. The company's System Design Enablement strategy helps customers develop differentiated products in mobile, consumer, cloud datacenter, automotive, aerospace, IoT, industrial and other market segments. Cadence is listed as one of FORTUNE Magazine's 100 Best Companies to Work For. Learn more at cadence.com.
For more information, please contact:
Cadence Newsroom
408-944-7039
SOURCE Cadence Design Systems, Inc.
Web Site: http://www.cadence.com
More from Communication Systems & Equipment