ProTek Devices' New TVS Arrays are Suitable for High-Speed Data Line ESD Protection
Press Release Summary: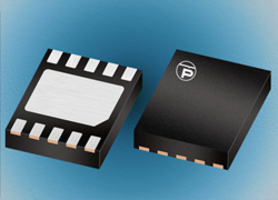 ProTek Devices' Transient Voltage Suppressors include PLR0504PLCN and PLR3304PLCN components with rated standoff voltage of 5.0 V and 3.3 V respectively. Units offer a capacitance of 1.5pF max (I/O to GND) and 1.37pF typical for 0Vdc and are rated at 250 W peak pulse power line for 8/20 microsecond waveshape. Diodes provide ESD protection of more than 25 kW and are suitable for DVI, FireWire, SATA and PCIe interfaces and IEEE 1394 to 3.2Gbps applications. Units come with lead-free pure-tin plating.
---
Original Press Release:
New ProTek Devices Steering Diode / TVS Arrays Deliver Electrical, ESD Circuit Protection for Popular Computing Interfaces
Two New Components Guard Against Damaging Electrical Events in Useful Computing Interfaces, Such as Gigabit Ethernet, HDMI, USB, and More
TEMPE, ARIZ. (PRWEB) APRIL 23, 2018
ProTek Devices has introduced two new steering diode / transient voltage suppressor arrays for electrical circuit protection in various computing interfaces, such as Gigabit Ethernet, HDMI and USB. The two new parts, in conjunction with passive components integrated into a TVS / filter network, can also be used for electromagnetic / radio frequency interference protection.
The new components are the PLR0504PLCN, with a 5.0 volt rated standoff voltage, and the PLR3304PLCN, with a 3.3 volt rated standoff voltage. Other suitable applications include DVI interfaces, high-speed data line ESD protection, FireWire, SATA and PCIe interfaces, and IEEE 1394 to 3.2Gbps.
The new TVS arrays provide ultra-low capacitance of 1.5pF max (I/O to GND) and 1.37pF typical for 0Vdc. They are rated at 250 Watts peak pulse power per line for an 8/20 micro second waveshape. Both components meet or exceed IEC standards requirements for 61000-4-2 (ESD), 61000-4-4 (EFT) and 61000-4-5 (surge). ESD protection is > 25 kilovolts and low-leakage current is < 0.5 microampere. They protect four lines and are also RoHS and REACH compliant. The parts also have a flammability rating of UL 94V-0
Mechanical, Packaging and Availability Information 
The PLR0504PLCN and PLR3304PLCN TVS arrays are now available and are provided in a molded DFN-10 package with an approximate weight of only seven milligrams. Other key mechanical characteristics include lead-free pure-tin plating (annealed) and a solder reflow temperature of (pure-tin - Sn, 100) 260 to 270 degrees Celsius. The GBLCxxCIDFN series has a flammability rating of UL 94V-0. It is delivered on 8mm tape and reel, per EIA standard 481, in minimum quantities of 3,000. Pricing information and purchasing details can be had by contacting any authorized distributor, representative, or directly with ProTek Devices. The company's distributor and representative channels are available in the USA, Europe, Asia, Latin America and more. Full contact information for all regions can be found at the company website.
About ProTek Devices 
In business 25 years, ProTek Devices™ is a privately held semiconductor company. The company offers a product line of overvoltage protection components and overcurrent protection components. These include transient voltage suppressors (TVS array), avalanche breakdown diodes, steering diode TVS arrays, PPTC devices, and electronic SMD chip fuses. These components deliver circuit protection in various electronic systems against lightning; electrostatic discharge (ESD); nuclear electromagnetic pulses (NEMP); inductive switching; and electromagnetic interference / radio frequency interference (EMI / RFI). The company maintains its headquarters in Tempe, Ariz. More information is available at http://www.protekdevices.com.
More from Packaging Products & Equipment