Protective Packaging features cold-seal coating.
Press Release Summary: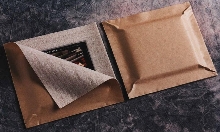 Microfoam® Cohesive Packaging has coating that seals to itself to instantly form highly protective package. It consists of closed-cell polypropylene foam in nominal thickness of 1/16 or 1/32 in., with layer of polyethylene film, kraft paper or linerboard laminated to foam. Because cohesive seal is destroyed when contents are opened, both structures offer tamper-evidence.
---
Original Press Release:
Pactiv Launches Microfoam® Cohesive Protective Packaging Line
Lake Forest, ILL. (June 18, 2002)- Pactiv Corporation (NYSE: PTV) is launching a new cohesively-coated protective packaging line under the Microfoam® Cohesive brand name. The line features a special cold-seal coating that adheres to itself to instantly form a highly protective package. The structure begins with a layer of Microfoam® closed-cell polypropylene foam available in a nominal thickness of either 1/16- or 1/32-inch. Next a layer of polyethylene film, kraft paper or linerboard is laminated to the foam. The polyethylene-laminated line is branded under Microfoam® Cohesive Plus (.75 mil film) or Microfoam® Cohesive Super (2.5 mil film). The kraft lamination can be found in the following brand options: Microfoam® Cohesive Light (30-pound kraft), Microfoam® Cohesive Medium (60-pound) or Microfoam® Cohesive Heavy (42-pound recycled linerboard). The cohesive coating, applied on the foam side, enables the material to adhere only to itself and not to the product being packaged (nor to the polyethylene, kraft or linerboard side which does not have cohesive coating). This enables wraps or pouches to be easily formed by simply pressing the cohesive surfaces together. No additional closing adhesives or devices are required. By varying the thickness of the foam, the polyethylene mils or grade of the kraft or linerboard backing, the Microfoam® Cohesive cold seal line can be constructed with a wide range of strength and cushioning characteristics. For example, polyethylene laminations can offer increased tear, puncture and moisture resistance, while protecting the contents. Kraft-paper based laminations provide a less flexible alternative, designed to hide dirt and provide writability while handling the rigors of transport. (The kraft-laminated version will also have a perforated option to facilitate ease-of-use in manual operations.) Because the cohesive seal is destroyed when the contents are opened, both structures offer tamper-evidence. Additionally, Microfoam® Cohesive products are ideal for automation. Products and/or markets that are ideal applications for Microfoam® Cohesive products include: - Automotive parts
- Clothing
- Aircraft parts
- Office/school supppies
- Farm equipment
- Pharmaceuticals
- Unfabricated metals
- Chemicals
- Furniture, appliances
- Medical instruments
- Electronics, computers
- Industrial packaging
- Books, printed materials
- Tools, hardware, construction
- Marine products
- Toys, sporting goods
- Horticulture
- Housewares
- Mail order
With sales of $2.8 billion, 13,000 employees and operations in 13 countries, Pactiv is a market leader in three growth sectors of the packaging industry: Consumer Products, with the Hefty® brand, Foodservice/Food Packaging, and Protective and Flexible Packaging. With the broadest range of products in the specialty packaging industry, the company derives more than 80 percent of its revenues from market sectors in which it holds the No. 1 or No. 2 position. For more information about Pactiv, log on to the company's web site at www.pactiv.com. Please forward sales inquiries to: Protective Marketing Dept.
Pactiv Corporation
1900 West Field Court
Lake Forest, IL 60045
Phone: (847) 482-8812
Phone: (877) 692-6163 (toll free)
Fax: (847) 482-4529
More from Electronic Components & Devices