Protective Packaging Corporation Packages Rocket Fairing for Transport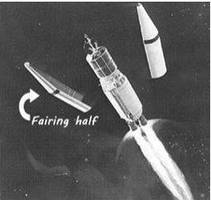 A major aerospace manufacturer recently contacted Protective Packaging to provide protection for the fairing halves of a rocket as it was transported across the country.



Dallas, TX – Protective Packaging Corporation was recently contacted by a large aerospace manufacturer to preserve the fairing halves of a rocket to be used in their next space launch. (The fairing is the large clamshell portion of the rocket that carries the rocket's payload - like the capsule recently used to resupply the International Space Station.)



The company was shipping the fairing from California to Florida for the launch, and wanted it to arrive in pristine condition. The 45 ft. long, 17 ft. high fairing had to be transported via a flatbed truck, and the 3200 mile journey would expose the fairing to a variety of weather conditions, dust, and road debris.



The consulting team at Protective Packaging proposed a flexible packaging solution that included Protect ESD (a static shielding barrier material certified to MIL-PRF-81705 specifications), heat shrink film and both 16 unit and 80 unit Montmorillonite clay as desiccant.



Protective Packaging's on-site packaging professionals were dispatched to the customer's facilities in California to package the fairing. First, the team padded sharp corners and lined the interior of each half of the fairing with desiccant. Next, each half was lowered by crane onto sheets of Protect ESD and heat shrink material. Protect ESD was pulled around the shell to form a large bag, then vacuum sealed to create an air tight enclosure. The final step was to wrap each half of the fairing with the shrink wrap, and heat the wrap to create a form fitting outer layer.



"The fairing arrived in Florida perfectly preserved and ready for the launch," said Jim Hiller, Senior Vice President of Protective Packaging. "Protecting the units before transport meant that they did not require any additional cleaning or costly refurbishment."



About Protective Packaging

Protective Packaging Corporation produces barrier bags for corrosion prevention and static shielding during shipping and storage. With over 25 years of developing packaging solutions with the US military, Protective Packaging Corporation carries a wide range of mil-spec compliant barrier materials available in rolls, sheets, tubes and bags. The company's packaging consultants assist customers in addressing flexible packaging solutions for shipping needs, from protecting cargo during shipment to preserving items during long-term storage. For more information on Protective Packaging Corporation, visit http://www.protectivepackaging.net.





More from Agricultural & Farming Products