Protective Mask offers air-purifying respiratory protection.
Press Release Summary: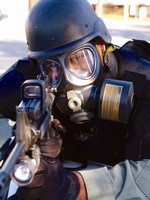 Providing protection against chemical, biological, radiological, and nuclear agents, M110 Dual Lens CBRN Facepiece features dual lens design providing downward and horizontal field of vision. Side-mounted canister allows weapons sighting from left or right. Facepiece includes integrated speech diaphragm for communication. Unit can be used with Scott 40 mm cartridges, and is suited for police, security SWAT teams, and military personnel.
---
Original Press Release:

Scott Health & Safety Introduces The Scott M110 CBRN Dual Lens Facepiece



The next level of respiratory protection for security forces

DATELINE (June 9, 2006) - When political protests turn into unruly crowds or worse, dangerous riots, police and other security forces are called upon to control the violence and disperse the crowd. Most often, these forces are exposed to the same riot controlling agents, such as tear gas, used to mitigate the situation. Additionally over the past few years, growing concern over the use of CBRN agents in terrorist activities, especially in situations involving crowds, have led security forces and other first responders to require a higher level of protection against these dangerous, and unknown respiratory hazards.

Scott Health & Safety has addressed this need with the introduction of the new M110 Dual Lens CBRN Facepiece for use by police, security SWAT teams and military personnel for CBRN-approved air-purifying respiratory protection in combat, riot control, or other tactical situations. While it protects the forces against the standard riot controlling agents, it goes the next step in providing protection again chemical, biological, radiological and nuclear agents.

"When faced with large protests, demonstrations or riots, security forces may be exposed to CBRN environments, which would severely affect their ability to manage the situation and keep it from escalating out of control," says Luanne Freund, Scott's Marketing Manager for Domestic Preparedness, "These forces and military response teams need the extra protection provided by CBRN-approved respiratory protection, such as the Scott M110 facepiece. And as CBRN readiness becomes a requirement of government, security forces are making CBRN-approved respiratory protection their first priority in personnel protective gear."

Based on Scott's popular M95 facepiece, the Scott M110 dual lens facepiece is specifically engineered for CBRN use, but is ideal for police forces and SWAT teams because of its all-black, stealth design. Its two-lens, binocular design provides excellent downward and horizontal field of vision and allows it to be folded for easier storage. The dual lens design, coupled with the side-mounted canister, allows for easier weapons sighting from either the right or the left.

Its hypoallergenic, halobutyl rubber mask and silicone nose cup make the M110 CBRN facepiece simple to disinfect, decontaminate and maintain. It also provides the user maximum comfort and excellent permeation resistance to a wide variety of toxic industrial materials (TIMS) and CBRN agents. An integrated speech diaphragm provides optimal communications and an optional drinking tube device allows for easy fluid intake.

When used with the Scott 40mm cartridges, the Scott M110 CBRN Dual Lens facepiece can be used as an "everyday" facepiece with expanded work applications.

With its sleek, low profile design and a dual lens for increased field of vision, users have the ultimate in protection available for security forces and military personnel. "We designed the M110 CBRN dual lens facepiece with maximum user comfort in mind, knowing that the situations in which they will be used can be long-term responses in very hazardous environments," says Ms. Freund, "We wanted to ensure that the people who protect us are fully protected themselves."

For more information about the new Scott M110 CBRN facepiece, visit Scott's website at scotthealthsafety.com

Scott Health & Safety, a business unit of Tyco International's Fire & Security segment, is a premiere manufacturer of innovative respiratory and other personal protective equipment and safety devices for firefighters, industrial workers, police squads, militaries, homeland security forces, and rescue teams around the world. With five global manufacturing locations, Scott produces products that protect thousands of individuals each day from environmental hazards including smoke, toxic fumes, combustible gases, falling objects, and contaminants. The Scott product line includes self-contained breathing apparatus, supplied air and air-purifying respirators, gas detection instruments, thermal imaging cameras, firefighter locators, head, face, eye and hearing protection, decontamination showers, and safety signs and markers.

Tyco Fire & Security provides electronic security and fire protection solutions in over 100 countries. With $11.5 billion in annual sales and 90,000 employees, its products and services are used to safeguard firefighters, prevent fires, deter thieves and protect people and property.


More from Mechanical Power Transmission