Protective Container keeps products secure and in place.
Press Release Summary: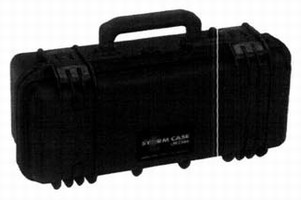 Built from HPX resin, Storm Case iM2306 has 17 x 6.3 x 6.2 in. of interior space in which to transport sensitive items requiring protection from mechanical shock and vibration, impact, water, and dust. Layers of cubed foam hold case contents firmly in place and can be customized to fit specific pieces. Also available, padded dividers keep sensitive gear separate, stable, and secure. Case weighs 4.3 lb, has cushioned handle, and complies with FAA guidelines for carry-on luggage.
---
Original Press Release:

Hardigg Cases Unveils The Storm Case iM2306



The real world is unpredictable, and when you're in the field, things happen fast. Photojournalists, mobile news crews, law enforcement, military personnel-all rely on specialized equipment to help get their jobs done, and ensure that they're able to respond to events as they happen. And whether you're covering breaking news across town or saving lives halfway around the world, you can't afford to let damaged gear slow you down.

Thanks to Hardigg Cases, now it won't. With the introduction of the Storm Case iM2306, the company that revolutionized the transport container industry more than 50 years ago has done it again. Built from Hardigg's patented and nearly indestructible HPX resin, the iM2306 is designed to protect sensitive, precision optics from the hazards of worldwide travel. Its generous interior dimensions-17" L x 6.3" H x 6.2" D (including a 2" lid)- ensure that everything from rifle scopes and camera lenses to complete photography systems and video equipment arrives on the scene in one piece, ready to go. Multiple layers of cubed foam hold case contents firmly in place, and can be easily customized to fit specific pieces. Available padded dividers or custom-cut foam also keeps sensitive gear separate, stable, and secure.

This versatile case has a more wide-ranging appeal, though: it's unique size makes it ideal for transporting telescopes, medical kits, GPS units, handguns and ammunition, water purification and treatment kits, delicate electronics-in short, anything that requires exceptional protection from mechanical shock and vibration, severe impact, water, and dust. And tipping the scales at only 4.3 lbs. empty, you get a lot of protection in a lightweight package. A cushioned handle makes the iM2306 comfortable to carry, and hinged feet provide a flat surface for upright stability yet hold fast under impact. Like all Storm Cases, the iM2306 also features Hardigg's unique Press & Pull latches, which stay closed if the case is dropped, yet open with the press of a button. Unbreakable molded-in hasps for external locks provide another level of security, and the case is fully compliant with FAA guidelines for carry-on luggage. The iM2306 is available in black and OD, and is unconditionally guaranteed for life.

To get a first look at the iM2306, visit Storm Case by Hardigg at www.StormCase.com, call us at 800-542-7344, or stop by a local retailer for a demonstration. Because when your job keeps you on the edge, you can't afford anything less than the best.

Hardigg Cases designs, develops, and manufactures plastic molded cases, shipping containers, custom molded products, and SKID-MATE® cushion products for government, commercial industries, and consumers. Millions of Hardigg containers have been produced to meet a wide variety of applications-including stringent military requirements-for over 50 years.

Hardigg provides the highest quality rotational- and injection-molded products to cushion and preserve delicate equipment from the effects of mechanical shock and vibration, thermal environments-even exposure to chemical agents and decontamination solutions. To find out more about Hardigg, visit www.StormCase.com. www.Hardigg.com, or call 800-542-7344.

More from Electronic Components & Devices