Protective Case for mounting Temp/RH data logger.
Press Release Summary: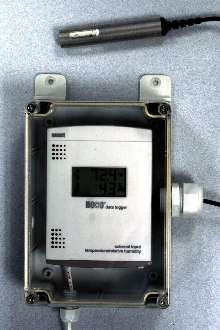 Tested to NEMA 4X standards, case mounts HOBO LCD Temp/RH Data Logger in condensing, wet, or dusty environments. It protects against corrosion, wind-blown dust and rain, splashing, and hose-directed water. Sensor cable feeds from LCD Logger through watertight grommet to external sensor. Made of UV-stabilized polycarbonate, product contains removable cap with O-ring seal and internal desiccant pack to minimize internal condensation.
---
Original Press Release:

New Protective Case for HOBO® LCD Data Logger Use in Wet and Condensing Environments


Onset Computer Corporation has released a new Protective Case for mounting its HOBO LCD Temp/RH Data Logger in condensing, wet, or dusty environments. The battery-powered LCD Logger mounts inside the Case, which contains a clear plastic cover to allow for reading of the LCD display. A sensor cable feeds from the LCD Logger through a removable watertight grommet to an External Temperature or External Temperature/RH sensor located outside the Case. Inside the case, the LCD Logger displays real-time temperature or temperature/humidity conditions measured at the sensor location, records the data in 64K non-volatile memory, and initiates alarms via relay output.

The new Case has been tested to NEMA 4X standards, and is designed to protect against corrosion, wind-blown dust and rain, splashing and hose-directed water. Made of UV-stabilized polycarbonate, the Protective Case contains an additional waterproof grommet for feeding cable from the LCD Logger's relay alarm output to optional remote alarm or other notification equipment. A removable cap with O-ring seal located on the side of the Protective Case allows for data downloading via serial cable without opening the Case cover. The Case is supplied with an internal desiccant pack to minimize internal condensation and allow continued visibility of the LCD display. The Case is shipped with mounting tabs for easy wall mounting.

The new Protective Case for the HOBO LCD Data Logger is priced at $75 and will begin shipping December.

About the HOBO LCD Data Logger

HOBO LCD data loggers measure and record temperature or temperature/relative humidity using internal or external sensors and provide a real-time LCD display of the measured variables, battery level, memory status, and alarm conditions based on user-programmed temperature or RH limits. A relay output on the LCD units can be used to initiate a remote audio alarm and/or autodialer to alert users to out-of-range temperature or RH conditions. Data collected by the LCD Data Logger can be offloaded in remote locations using HandCar® 1.1 software for Palm(TM) handhelds, or offloaded from the logger via a cable to a PC running BoxCar® Pro for Windows®. BoxCar Pro software can be used to display and analyze data acquired by the HOBO LCD Data Logger, and creates data files that are easy to export for use in spreadsheets or specialized post-process applications.

Without the Protective Case, the LCD Logger must be mounted in a non-condensing environment. External Temperature and Temperature/RH sensors are available with 2-meter, 6-meter, and 17-meter (Temp/RH sensor only) cables for mounting in intermittently condensing environments remote from the LCD Logger.

An LCD Logger with Internal Temp and RH sensors is available for monitoring non-condensing environments.

About Onset Computer Corp.

Onset Computer Corporation has been producing small, inexpensive, battery-powered data loggers since 1981, and has sold over 600,000 units used throughout the world by more than 25,000 customers. Over 50 models of Onset data loggers measure temperature, humidity, rainfall, wind, barometric pressure, light, AC current, carbon monoxide, 4-20mA, voltage, on/off, open/closed, and events. Onset data loggers are used in a wide range of research, commercial and educational applications including agriculture, forestry, field biology, food production, manufacturing, transportation, and HVAC. NASA has used HOBOs to measure space suit temperatures during spacewalks.

Pricing

Protective Case for HOBO LCD Temp/RH Logger-H14-CASE-4X $75.
HOBO LCD Logger with External Sensor Input - H14-002 $149.
External Water-Resistant Temp Sensor w/2-meter Cable $45.
External Temp/RH Sensor w/2-meter Cable $125.
External Stainless Steel Temp Sensor w/2-meter Cable $85.

Reader Inquiries:

Onset Computer Corporation
Tel: 1-800-LOGGERS (1-800-564-4377), 508-759-9500
Fax: 508-759-9100
Email: sales@onsetcomp.com
Web: www.onsetcomp.com

More from Cleaning Products & Equipment